When we talk about respectable companies in the website-creation industry, we simply can't move on without Wix. Wix is a company that's been with us for more than a decade, providing its users with the tools for creating, managing, and upgrading their beloved websites and blogs. No wix has come up with yet one more stunning product that will help you to be ahead of the competition in this fast paced online age – help desk support software Wix Answers. But, is Wix Answers really that good as they say? If you aren't interested in the nitty-gritty of the review, we can simply say YES. But, if you want to find out more about this help desk software… well, you can keep reading!

As we mentioned in our introduction, Wix is a robust website builder which can already pride itself on being simple and straightforward. Wix Answers is a help desk software that lets you create and manage your own customer support. You'll agree that creating a near-perfect customer support is by no means easy, but with Wix Answers, this process should be a lot easier!
Before we move on to the features, it's important to mention that Wix Answers is a free to start platform. That's right! You get to create your masterpiece with the basic set of features for less than a dime (actually for free!). So, let's dive deeper into the features of Wix Answers.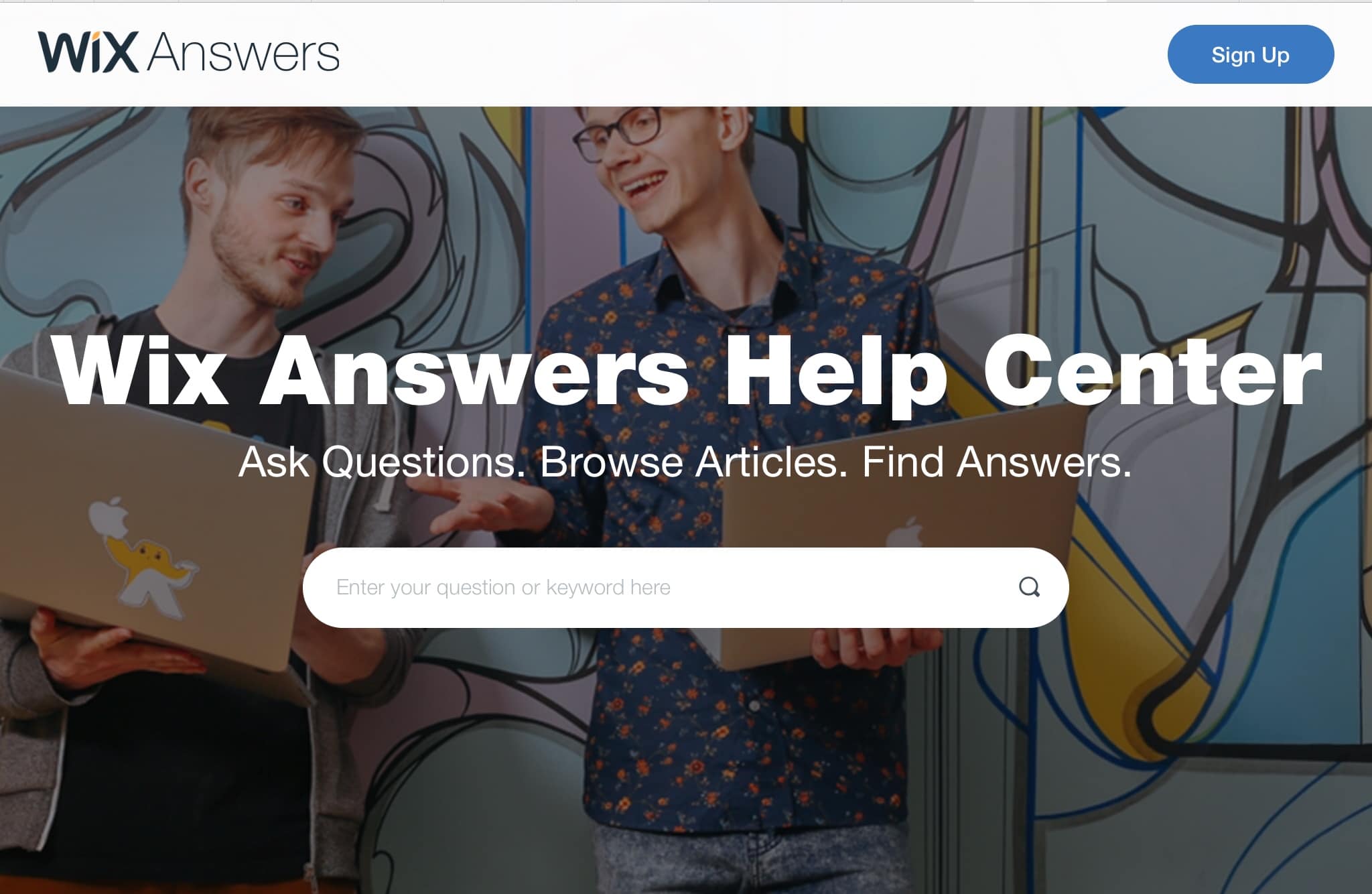 Wix Answers Features
The call center is always a good thing to have, isn't it? It's great when you can simply integrate a particular phone number from which your customers or business partners can contact you. This way, you'll be able to tackle customers' problems and questions with haste and precision. The great thing about this feature is that your customers can request a callback, which is a nice feature for a free software like this.
Have I mentioned that Wix Answers offers you TONS of tools for creating your perfect help center? You can choose from dozens of different templates and customize them according to your needs. If you want to promote your branding, products or articles, you can simply put them in here and let Wix Answers do the rest. On top of that, Wix Answers lets you come up with an in-depth FAQ section as well as step-by-step guides, which further expands your customer support quality.
Ticket management might be one of the most important features of Wix Answers.  Wix Answers ticketing system will do all the necessary filtering in order to track the support tickets that let you quickly respond from your knowledge base by sending the corresponding articles or recommendations. If you include contact forms (which, by the way, you CAN do), you'll be able to gather more info about each customer and that's quite nice.
If you're growing tired of scrolling down the website to find the customer support, this beautiful tiny widget should do the trick! By embedding a widget anywhere on your website, you can give your users an opportunity to access your customer support with a single click and put a smile on their faces. This way, they'll be able to directly contact you or send you a message in less than a couple of minutes.
Access to Important Insights
In the end, you'll want to know how well your website is doing, because this is the crucial factor in your website's development. Well, Wix Answers will not disappoint you and will give you a plethora of information about your performance, customer satisfaction, ticket response times, etc. I mean, you can't be dissatisfied with Wix Answers!
Setting Up your Customer Support
In this section, we're going to take a look at how you can get started with Wix Answers. The steps are below.
Visit

Wix Answers

website.

In the top right corner, click on a blue "Sign Up" button. A new window will open.

Now, click on "Continue with Wix" button, which is located on the right side of the new window.

If you did this, you'll see two options. You can either continue with Facebook, continue with Google or sign up with your desired email address. Choose your favorite way of doing this.

For those who chose to sign up with a separate email, simply enter your email, your name, and your password. After that, confirm your email and you're ready to go.

If your choice is to use Facebook or Google, simply click on the button in the fourth step and Sign In to your account.

The next window will have you fill in Company Name, Company Size, URL, Primary Language, Phone Number, and your Full Name. Fill in the blank boxes and click on Sign Up.

From here, you can create a new article and start your journey to glory.
Summary of the pros
It's free to start.

Ticket Management system works very well.

Customer support widget is a nice addition

Implementation of Call Center is always welcome.

It's simple to use, with a comfortable learning curve.
Conclusion
To wrap up our review of Wix Answers, we almost can't say anything bad about the platform itself. I can tell you from my personal experience that Wix isn't a fraudulent company and they aren't any kind of scammers you can find online. If you want to build your own high-quality customer support, I think you should try Wix Answers.