Cupertino based conglomerate Apple is expected to launch at least three new iPhone models in September this year, alongside the iOS 12 stable version. Over these last few months, there has been no shortage of speculations regarding the specifications, price, and design of the new models. Now, an industry analysis of the company has predicted the specifications and pricing strategies of the upcoming iPhone models. The report claims that the current iPhone 8, iPhone 8 Plus and the iPhone X were short of expectations and this might have an effect on the pricing strategy of the upcoming models.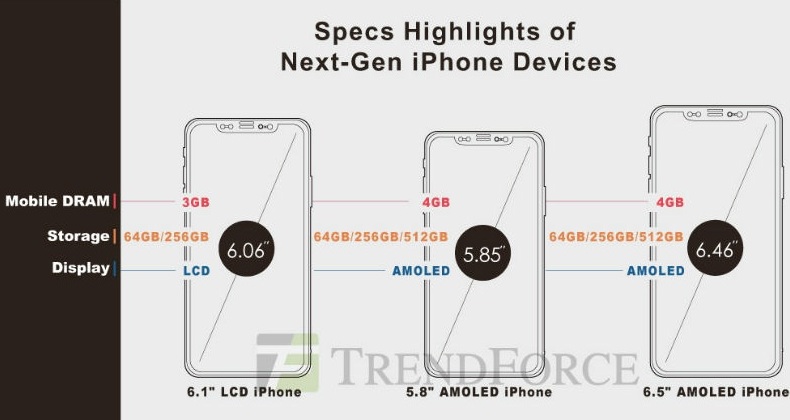 Apple is expected to launch three new iPhone models this year; an iPhone X successor with an OLED display, one 6.5-inch variant with an OLED display which would be the most premium device and another 6.1 inch LCD model. As per a market research firm TrendForce, the prices of all the three Apple iPhone models could vary between $699 and $999. The company may launch the affordable 6.1-inch LCD iPhone at a starting price of $699 to $749. The model is also likely to support Face ID, dual-SIM functionality, 3GB of RAM and 64GB/256GB of inbuilt storage space.
Talking about the OLED iPhone models, the report states that the 5.8-inch model may be priced around $899 to $949. It also claims that it would be the end of the road for the Apple iPhone X as both these models have similar specifications. The 6.5-inch OLED iPhone which is touted to become the most premium handset from Apple is likely to arrive with a starting price of $999.
The TrendForce report also claims that the new models will arrive with Apple Pencil support as well. Popular analyst Ming-Chi Kuo had earlier predicted that the upcoming iPhone models may arrive with Apple Pencil support. Meanwhile, the TrendForce report has also claimed that Apple may bring 512GB storage variants for the OLED iPhone models this year.