Google Pixel 3 XL, which is set to become the successor to last year's Google Pixel 2 XL flagship device, has now been spotted in a Lyft cab. It has been alleged that someone has left behind the Google Pixel XL device in the cab. The latest revelation shows the back panel of the device clearly with the Google logo embedded on it. The front panel shows the presence of a notch and the device runs on Android 9 Pie. In a separate set of leaks, two smartphone models that have been registered by Google have been spotted on the FCC website. It is being reported that the two models are of the Google Pixel 3 and Pixel 3 XL.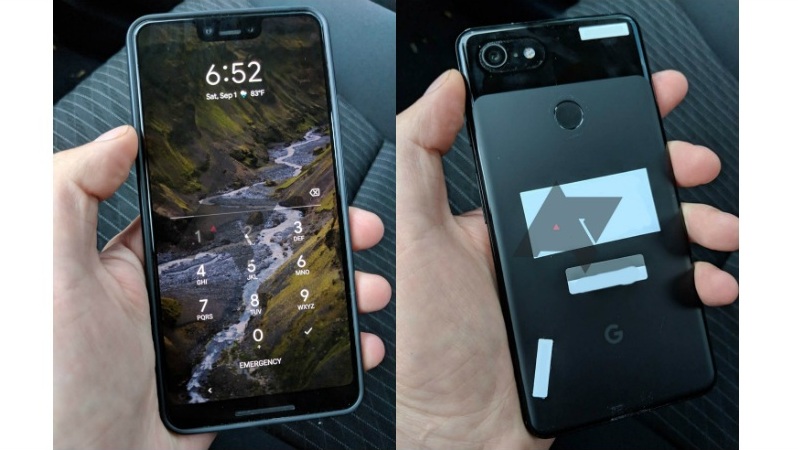 The images of the Pixel 3 XL spotted in a Lyft cab has been shared by AndroidPolice and it shows the back and front panel very clearly. The front view shows the standard Android Pie user interface with time, date, real-time weather updates and temperature on the lock screen. Another view of the front panel shows the PIN input screen with a background image of a waterfall in Iceland. As per 9to5Google, the background image is now available via the Google Wallpapers App.
As per earlier reports, the images of the Google Pixel 3 XL also shows two camera sensors in the front panel that has been placed on either side of the earpiece. The earpiece and the sensors have been embedded in the notch.
The back panel of the Google Pixel 3 XL sports Google's iconic logo that was found on previous models of the Google Pixel as well. The images also show the presence of a circular fingerprint sensor along with a single rear camera and an LED flash module.
Coming to the FCC listing, it does not reveal any specifications of the smartphones although it confirms the availability of a number of connectivity options like 4G LTE, Bluetooth, GPS, NFC, WiFi and wireless charging.