Nokia 9 has been a subject of rumors mills since the last few months. There has been no shortage of speculations and leaked unofficial reports about the new smartphone and what we can expect from it. While it was recently spotted on Samsung's Latvia website as a buyback option, a newly leaked render has now appeared to shed some more details about the smartphone.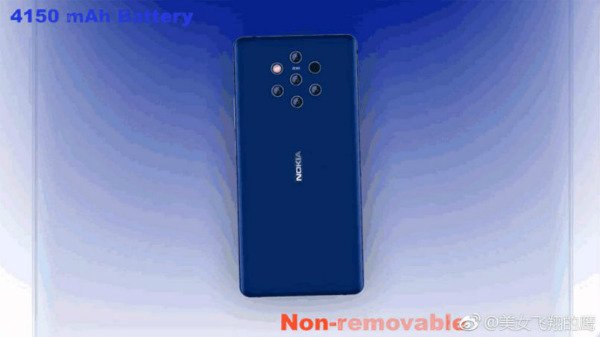 We already know that the Nokia 9 may arrive with as many as 5 rear cameras, the new render confirms the same and also hints at a much larger battery than any of its previous flagship devices.
According to the image, leaked by NokiaPowerUser, there will be seven cutouts on the rear that will be placed in the form of a hexagon. While five of these cutouts will feature Zeiss branded camera sensors, the sixth cutout will feature a Xenon flash. There has been no word on the functionality of the seventh cutout as of now.
If the image turns out to be genuine, then the Nokia 9 would become the first device to arrive with such a feature. The Zeiss branded camera sensors are also expected to feature Miniature Zoom camera technology which has been patented by Zeiss Optics. This technology uses the primary wide angle lens as the image sensor while the rest revolves around it to provide a zoom effect.
Apart from the image sensors, the leaked image also reveals the presence of a massive 4150mAh battery under the hood. If this battery information turns out to be true, then we can expect the Nokia 9 to last a considerable amount of time without any battery related issues.
Meanwhile, the listing on the buyback page of Samsung's Latvia website has shed some light on the storage capacity of the Nokia 9. As per the page, the Nokia 9 will arrive in both single and Dual SIM variants with multiple storage options. The phone will arrive in 64GB and 128GB storage options although any other information about the smartphone is not available at the present time.