Though Apple has experienced biggest sales drop ever in its history it has managed to get the second place and Samsung has trumped Apple with just a 1.5% extra margin while Huawei has exploded in sales and grew more than any expert can imagine. It has come up on the third place from ninth position.
Huawei P20 was the device that has pushed the brand forward apart from the excellent sales from its sub-brand Honor in China and South East Asia.
Though Xiaomi has been the market leader in India, it got on the fifth place. Out of the first five, three are Chinese brands. Huawei's sales got skyrocketed in the last couple of months. First three brands are in a tough competition where first Samsung, second Apple, and third Huawei have stood with 17.3%, 15.8%, and 14.8% respectively.
Samsung has shipped more than 71 million units while Huawei has shipped around 60 million devices in this quarter worldwide.
But on the other hand, though Oppo has got fourth place, it got 7.7%, almost half of the Huawei's sale volume. Xiaomi got only 6.8% of market share.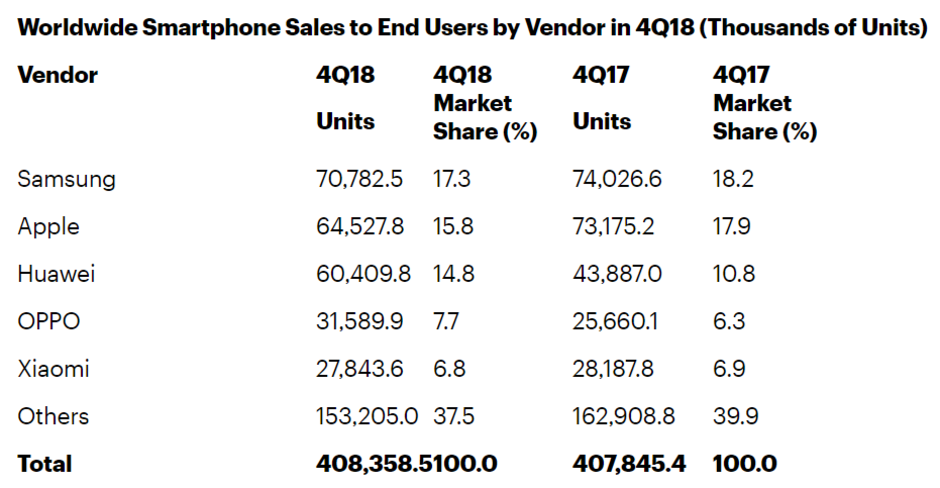 Here we can easily see a big difference between the first three and the last three on the list. From the first three, only two are spreading sales while Apple's sales are depleting, from the table it's seen that over the year, Apple has lost about 2% market share.