WhatsApp is going to change the app that you are using right now. A few days back it enables users to see how many times your messages have been forwarded and if an image has come into your inbox, you can directly search that on the app whether the image is a legit image or not.
WhatsApp allows you to search that online in order to prevent spreading fake news through it because many older photos and irrelevant photos are deliberately get spread over the social media in order to fearmonger.
Apart from that WhatsApp beta comes with a whole new dark theme that will save power usage and strains on your eyes both at a time!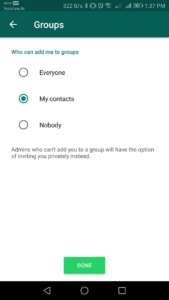 Facebook has already done it and the messenger has an optional radio button to enable that quickly on the go. As per our prediction, WhatsApp dark theme will also be optional that means only if you want then you can enable it. This will not be a forced change.
Now, coming to another feature that's going to be a part of the new privacy policy of WhatsApp. You can select who can add you to a group in order to start a group conversation. By this way, you can control who can add you in a newly created group.