Samsung has been one of the top players in the Indian smartphone market. It started the year with two new series- Samsung "A" and "M" series. "A" series is targeting the premium and mid-range segment while "M" series especially targets entry-level segment.
The company is pushing a new update for charging enhancement where getting charged is being easier and some bugs may be fixed and charging the device will be smoother and faster for sure.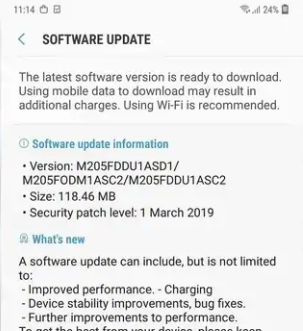 The update will help using the full potential of the charger. All these are in the software section only while we have a 15W fast charging type C port in all devices of "M" series.
The update is spotted on a device of our member and we thought it should be passed on to other users if you have not got any update notification, then kindly check the system option lies under the "Settings" option in the app drawer.
If, still there's no update then, please wait for a few days because of the update is being dispatched in a few batches and hopefully, within a few weeks, you will also receive the update on your device.  Stay tuned for more update on it. Please fill the comment section with your thoughts.