When I attend a concert and stand in the front, I can feel the pounding bass from the speakers but it is sometimes a distorted and distracting feeling. What if there was a better way to feel music, what if you could feel the music from the comfort of your own home.  Now you can and it doesn't have to be pounding bass.
Music is more than just beats and notes and now Full Body Sound is showing you how easy it is to experience sound through an electrically stimulating tactile sensation via Transcutaneous Electrical Nerve Stimulation devices.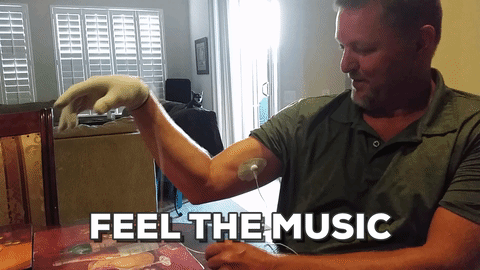 Full Body Sound technology recreates the audio experience through its input and conditions it, allowing users to feel an electrically stimulating tactile sensation.
Their Indiegogo crowdfunding campaign states that they recognize that their technology has many other possible applications. They are excited to provide a tactile wearable to music lovers, but they also want to engage the Deaf Community, VR/AR, and possibly delve into the Health Tech arena.
Allison Hale, the co-founder and COO of Full Body sound told Techvicity that, "Full Body Sound truly comes from a place of passion for us. It was initially created for us and our family. It wasn't until we tried it with friends, took it on a raft trip down the Grand Canyon, and received overwhelming positive feedback that we realized this was something we needed to share. We see audio tactile wearables as the new disruptive technology, and we are excited to get these into the hands of music lovers and music venues in the future. We have had several musicians show interest in creating music with the intention of how it will feel!"
You can support their crowdfunding campaign here.

I look forward to testing the product out the in the future to experience our favorite music in a whole new way.