Redmi K20 has been a big hit in China and for the last few weeks it has been the most sold device in China till now and it has booked some records. In India, it may be launched within the next few weeks.
Now, the company is gearing up for launching a new edition of the same device, Redmi K20 Pro  Marvel Hero. This will be a limited edition of the course and a number of devices sold under this specific device name will also be limited. In India, the same Marvel edition will be launched as there are a lot of Marvel fans in India as well. Xioami has tied up with the Marvel Studio to pay a tribute to the extraordinary effort of Marvel.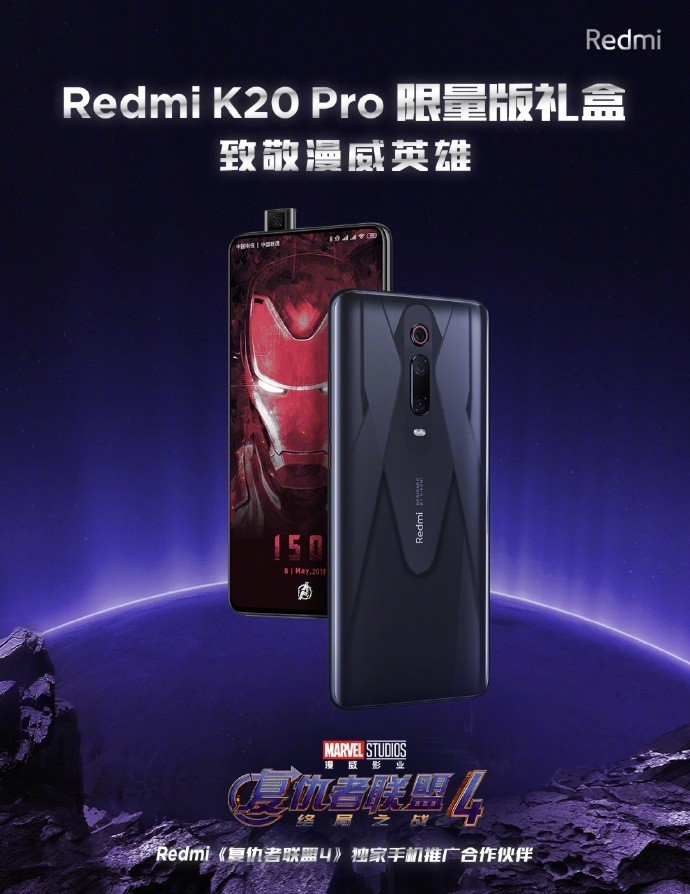 As per the leaks, the device will come along with a special box embossed with Avengers logo, Apart from the box, users will get a special Avenger themed back cover as well.
This limited edition will be covered with a black back cover having some special effects of Avengers. It may have a replicated theme of the mask of the Iron man!
In India, it may be priced at Rs. 25000 more or less. This will be the 6 GB RAM variant with a 128 GB flash storage. Apart from the 6 GB variant, there will be another variant having 8 GB RAM! That can be priced Rs. 30000 more or less.
The device features a 6.39 inched full AMOLED screen with an aspect ratio of 19.5:9 while having a 91.9 percent screen to body ratio.
The most exciting thing is that it will have a Qualcomm Snapdragon 855 SoC that clocks at 2.85GHz!