4.93 Million Google passwords leaked online
The most dangerous news online! Hackers cracked a huge Google database and had stolen and
also leaked around 4.93 million passwords and usernames online
! Probably the Russian hackers did the mischief as the whole database is published on a Russian bit coin security forum.
The hackers claimed that around 
60% of the stolen 4.93 million Google passwords could be used to access the account easily
. Though Google has not provided any official report on this, users are very much aware of this, and there is a huge rush to 
change the username and password combinations across the world
.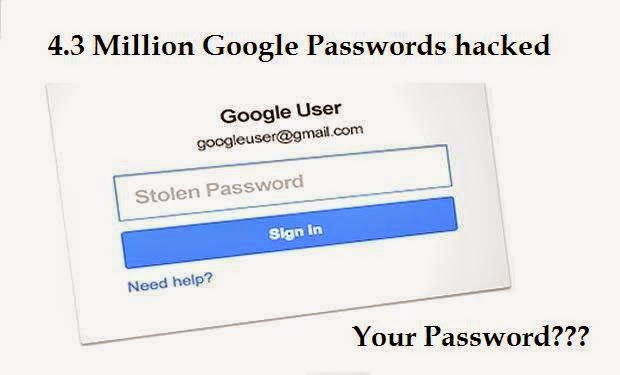 If you are an account holder of Google, you are advised to check and change your password immediately as the hackers had given the warning to 
change the password- username combination to protect personal data.
Users of Google may face an intense threat as Google uses one username and password to access its whole facilities like Gmail, Youtube, Blogger, Google Drive, Google Map, Google Hangouts, etc.
The news of one of the largest leak history in the online world, 4.93 million passwords of Google users have been leaked and shared in an open forum online, went viral in the United States of America and Whole Europe!
People think that Google is not also worthy enough regarding online protection! But what the mighty Google is saying about this incident, on which the whole world is frightened! Google published a report and said that the combinations of username and passwords are too old and may 2, or 3 percent of these have a chance to be active there. Google asked everyone to 
activate two layers verification or two steps verification
.
Google users are also thinking to add up the extra layer of security by activating two steps verification, where user's mobile number has to give and register with the account, and when you or anyone tries to open or access the account, an SMS containing a high-security array of numbers will be delivered to your mobile, and you have to provide the number exactly in the order as you receive the SMS. This step will secure the user's right as this is nearly impossible to access the users mobile and email address at a time. Taking these precautions, along with adding the security of a data recovery system such as this one, will provide you with the peace of mind that even severe issues can be resolved.
All the email providers always asked the users to 
change the password in a definite interval
. But how many of us do that? Perhaps it will count not more than one percent! This is the real fact about our tech savvy generation!        
After leaking of 4.93 million Google passwords online

, we are taking the steps. After hearing about the leak of a huge database, you don't have to run fast as Google announced that Google's anti-hacking system already blocked many of those log-in attempts.
America is still in shock after the leak of nude pics of the celebrities from the highly protected Apple's cloud server- iCloud. Just after a week hardly, Silicon Valley is attacked for another time and this time-The Google!  
The Russian hackers leaked 4.93 million Google passwords online for everyone.
Google warned its users not to login third party website by Google's account, as these could be a trap. Use fresh username and password. And 

change the passwords of necessary and important emails in an interval of at least six months

.  
Is Cyber world in crisis? What do you think after this current attack where 

hackers had taken and leaked a huge database of around

 

 

4.93 million Google passwords

! Google is assuring its users, but you are asked to check your email and password combination, change it and set a good alternative recovery system.  And the last thing that we know better than each other but hardly bothers- set a strong password combining alphanumeric and special character.