The rain of goody features is coming your way with the Samsung Galaxy Note 5. Note 5 will have a lot more stuff to surprise you. The launch of Samsung Galaxy Note 4 is sufficient to keep the rumours at the surface of

Galaxy Note 5

. The rumours, news concepts and specifications are disclosed for the flagship of 2015 the brand new Samsung Galaxy Note 5.
The Note 4 is a huge success for Samsung, and presently there is no competitor for this phone in Android market. When you consider the size, then Apple is also not behind regarding big handset, and it has been proved with the launch of  Apple iPhone 6 Plus and it is affecting the sales or market of other phones like Samsung Galaxy Note 4.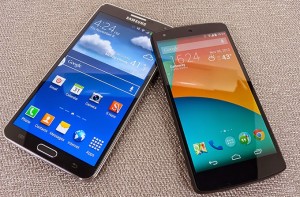 After iPhone 6 Plus, Apple will launch the

iPhone7

plus, and the spicy battle of these smartphones will keep going so due to the huge competition, Samsung has to be more wild for Galaxy Note 5 belongings. There is another phablet like Xperia Z4, and LG G4 will affect the sales or market. However, there could be one winner in the huge rush and Samsung Galaxy Note 5 may capture this place this year.
However, we cannot avoid these facts also about the phone. When you consider about Galaxy S5 it does have a card slot (MicroSD). Also, Galaxy S5 has 32GB only. I think Note 5 may encounter the same issue.
Note 4 with the 32 GB internal storage that is not sufficient as it can fill with loaded apps and you can't use the micro SD for apps.  There is a transferring function in the NOTE 4, but in that case, a lot of the apps will not work anymore and all updates for the apps being moved to the SD fail.
Samsung was likely to change for the NOTE 3 and did not happen even for the NOTE 4. The bunch of space tech specs is worthless without storage capacity so having such a high-end smartphone with limited storage.
The worthwhile list of Galaxy Note 5 specifications and features
:
   1. 
Snapdragon Qualcomm 82X+ processor with 3.2 GHz / Samsung Exynos 7X (10nm) 8-core (little. Big.Bigger) with max 3GHz frequency
core
      3. All new native 4K resolution display 
      4.
Advanced TOUCH ID button and retina scanner 
      6. Fastest charging capabilities – might charge your phone in 5 to 10 minutes
      7. 27MP ULL sensitivity rotator camera – front to rear
      8. Capturing 8K resolution video
      9. microSD Slot & Front Stereo Speakers
All specifications and features to be bundled in a metal sleek gadget and the 4K resolution display would be a revolutionary in the smartphone. Samsung would be first to calculate various thing in their smartphone for the first time. There were updates for Huawei smartphone to function 8-core processor and 4K-resolution display. So far, competition is at its peak and Samsung is not behind and alone. With the launch of Samsung Note 4, there is needless to add, Samsung will initiate with some more stuff.