Micromax unveiled their latest product Canvas Blaze 4G last week while Infocus announced M370 a few days back. Both the handsets have already started making noises among the mobile geeks and the buyers. In this article, we have shed lights on both the phone and assess each and every aspect of these two devices. We have focused on the key specifications and make comparisons of these two smartphones so that you don't have to face any dilemma while buying Canvas Blaze 4g or Infocus M370.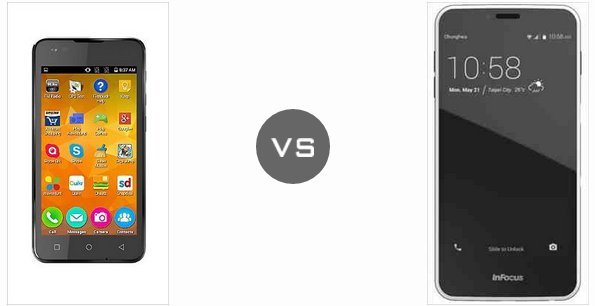 Canvas Blaze 4G vs. Infocus M370: Design
The exact dimensions and weight of Canvas Blaze 4G are still unknown to us but as per the photos posted on the official Micromax website, it comes with a simple design with a plain back panel where lies the rear camera and below of that the Micromax logo is engraved.
The Infocus M370 though has a very impressive design. With dimensions of 143 x 71.5 x 8.1 mm and weighs about 125 grammes, the entire phone has a white & black contrasting theme embezzled all across its body.
Canvas Blaze 4G vs. Infocus M370: Display
Micromax Canvas Blaze 4G is sports with a 4.5 inch IPS display while Infocus M370 is armed with a 5 inch High Definition IPS display.
Not only in the screen size, but Infocus M370 has edged past Canvas Blaze 4G regarding screen resolution also.
Canvas Blaze comes with 480 x 854-pixel resolution where as Infocus M370 has a mind blowing 1280 x 720-pixel resolution.
Both the phones lack in screen protector aspect as both the devices don't provide Corning Gorilla glasses.
Canvas Blaze 4G vs. Infocus M370: Processor & Memory
Both Micromax Canvas Blaze 4G and Infocus M370 run on 1.1 GHz Snapdragon 210 processor backed by  1 GB of RAM. They both share 8 GB of internal storage as well as 32 GB of expandable storage.
Software
In this section, it is a tie also as both the phones come with the  5.1 operating system with slight customizations on top.
Battery
The InFocus M370 is powered by a Li-Ion 2230 mAh battery, while the Micromax Canvas Blaze 4G has a 2000 mAh battery. Micromax claims that battery offers up to 6 hours of talk time and 220 hours of standby. Though InFocus hasn't officially announced how long their battery lasts, we can assume that it will be at least as much of Canvas Blaze, if not more, kudos to the similar OS and larger battery.
Canvas Blaze 4G vs. Infocus M370: Camera
The Micromax Canvas Blaze 4G is featured with a 5-megapixel primary rear camera that comes along with a flash light and autofocus.It also has a 2 MP front facing the camera for clicking selfies.
The InFocus M370 is geared with an 8 MP rear camera with autofocus capability and a 2 MP front camera.
So Specification wise the InFocus M370 is the clear winner of this round unless the Micromax Canvas Blaze 4G comes with an incredible image processing capabilities.
Connectivity
The InFocus M370 is equipped with two SIM slots, 4G, Bluetooth v4.0, GPS (A-GPS) and WiFi as connectivity tools. However, the second SIM card slot acts as a memory card slot too. So either one can only have expandable storage, or two SIM cards, not the both at the same time.
On the other hand, Micromax Canvas Blaze 4G housed with two dedicated SIM card slots along with the micro SD card slot. It also provides GPS, 4G, Bluetooth v4.0 and Wi-Fi.
So, when we are comparing the connectivity issue, Micromax Canvas Blaze 4G is slightly ahead as it can be used as a dual-SIM phone with expandable storage at the same time.
 Canvas Blaze 4G vs. Infocus M370: Price
The price of Micromax Canvas Blaze 4G is Rs. 6999  where as Infocus M370 will cost us 5999 INR.
Conclusion
Comparing two phones we found that InFocus M370 is providing us better looks, a larger and clearer display, same processor, powerful battery, more expandable storage and a better camera than Micromax Canvas Blaze 4G. So unless you are not an ardent fan of Micromax, do yourself a favour and wait for the InFocus M370 to be launched in the first week of October.