It was not long before when we did not consider Xiaomi as a royal member of the smart phones  clan. Only Apple, Samsung, Sony and Microsoft were stealing the entire limelight. But past 2-3 years, there was a revolution in the field of technological advancement of the smartphones and since then Xiaomi is grabbing the market and grabbing it at bolt's speed. People are going gaga over this Chinese company and recently they have jumped up to the fourth largest smart phone manufacturer in the world. While the company's smartphones have been always a red hot topic for conversation now the company is also prioritizing their Tablet section. As a result Xiaomi launched Mi Pad 7.9 in August 2014 and now they are making its successor Xiaomi Mi Pad 2.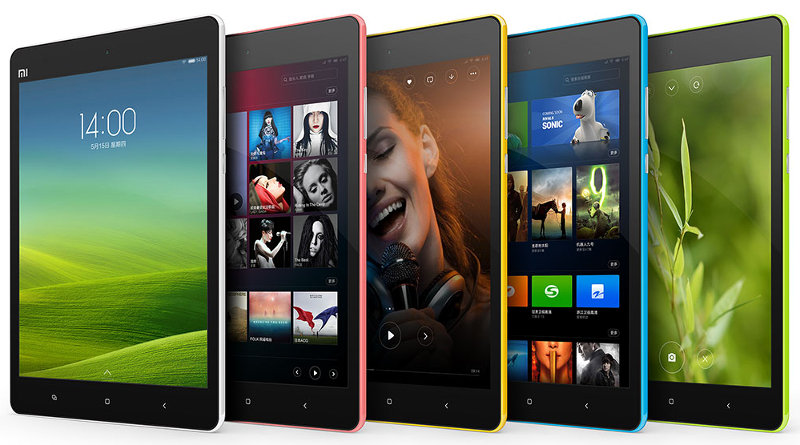 Xiaomi Mi Pad 2 Release Date
Xiaomi has not announced the official release date, yet .The speculations were in the air that they would launch MiPad 2 in April this year, when they were celebrating their 5th year birthday, but that did not turn into reality. But they will launch it very soon as they are pulling off the previous version Mi Pad 7.9 from the market very slowly and the price has also been reduced by Flipkart.
Xiaomi Mi Pad 2 Specs
What are the phone's processor and chip specifications??
The main feature of this Xiaomi MiPad 2 is that the device will have an Intel chipset clocked at an impressive 1.8 GHz instead of NVIDIA's Tegra K1. This wouldn't be surprising at all given that Xiaomi was in talks with Intel for supplying the SoCs for its current generation tablet, i.e Mi Pad 7.9. But later the company has decided to use NVIDIA. Another reason for this change could be Intel's recent efforts to get  deep into the smart phone devices market. Intel has shown  great interest in supplying chips for smart phones, so Xiaomi's recent popularity might have convinced them to make a pact with them.
Details about Design and Display
When we are talking about the display part of the Xiaomi MiPad 2, it has some close resemblance as well as dissimilarities with its predecessor MiNote. MiPad 2 will come with 8.1 inch screen while MiNote comes with 7.9 inch display. The similarities lie in full HD resolution, curved glass and a common placement of the front-facing camera and other sensors for both the phones.
Check Also: Xiaomi Mi Band 2
The docking connector of MiPad2 is situated on its left side where lies System reset, Mini HDMI, 3.5mm microphone and headphone jack, Micro USB 2.0, microSD/SDHC/SDXC card slot, Standard size USB 3.0. On the right portion of the phone lies the power jack and the power button. Unlike MiNote, MiPad 2 has a metal frame and a glass back this time.
Phone Performance
Xiaomi  MiPad 2 will be  carrying the latest Android 6.0 Lollipop version while MiPad is installed with the Kitkat version. The new model is also powered by the 64-bit and 1.8 Ghz Intel chipset so this gadget will use the brand new processors for acquiring better performance from the device. The Tab is also features with a 2 GB of RAM. The internal storage is 16 GB which is expandable  up to 64 GB through the  SD micro card slot.
Camera Specifications
Xiaomi MiPad2 will be instilled with the 13 MP rear camera and a 2 MP with the front facing snapper with high-quality pixel resolution.
A few lines about the phone's Connectivity
The Xiaomi MiPad 2 will be geared up with the 4G/LTE capability, Wi-Fi, Bluetooth, GPS, and a built-in barcode reader which can be used to retrieve the hidden product knowledge but there is no NFC feature. The phone has some noticeable similarities in few cases to the Redmi 2 which is Xiaomi's latest product in the market.
Notable Features of Xiaomi MiPad 2
The phone has 8.1 inch display
Full HD display
4G compatible
720 x 1280 pixels of image resolution
Quad core performance
1.8 GHz of Intel chipset
2GB of RAM
16GB of internal memory
Up to 64GB of Expandable memory via card slot
2200mAH battery
Dragon Trail glass
13 MP rear plus 2 MP front camera
Run on android 6.0 lollipop.
9 mm of thickness
Xiaomi MiPad 2 Price Speculation
The price has not been officially disclosed yet. Rumor is it will vary between 20,000 to 30,000 INR. Once the price will be announced we will let you know on our website.
Conclusion
All the above information are based on rumours and speculations. Nobody is completely sure what will be the exact specification of this phone. Every day, loads of news are leaking through about this eagerly anticipated phone. So keep glued to our website for more news about Xiaomi MiPad 2.