Every time Sony release their new flagship device, I feel like, I am having a Déjà vu. Sony Xperia Z5 is no exception and it looks like another sculpting of the original Xperia Z from years ago. Yet again this Japanese electronic powerhouse refused to try something refreshing with its flagship and yet again they labeled their flagship with an expensive price tag. Let's get strated with our exclusive Sony Xperia Z5 Review.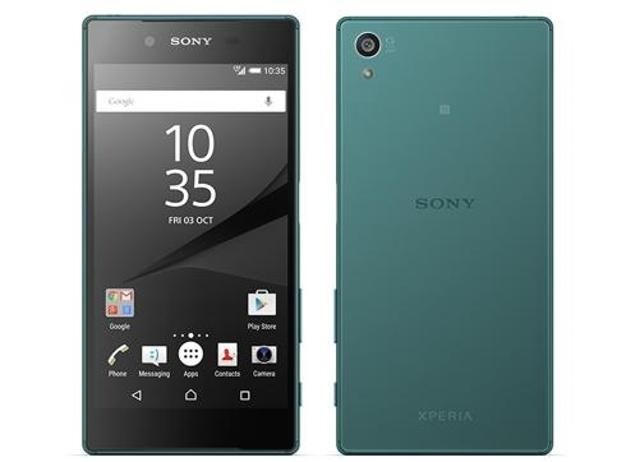 But as they say, looks are deceptive. This phone is packed with powerful performances and powered with a strong battery. Come  let's have a look what Sony Xperia Z5 Review offers to us.
Sony Xperia Z5 Design
The design and build of the Sony Xperia Z5 comes with a boxy design, is ergonomic, feel solid and powerful in the hand and looks identical from every angle. The nylon corners are back once again and it looks like Sony is recreating significant revision of its signature design with the Xperia Z5 series. This special feature will surely earn some points for the brand in this exclusive Xperia Z5 Review.
The Z5 is not only symmetrical, it encapsulates the concept of uniformity to a whole new level- no more groves  or curves, no more unnecessary grills, everything is ruled out to give a simple, minimalistic and uniform look to the phone. Yes some might find this look "boring" but this brand new Xperia Z5 comes with loads of power.
Dimension wise the Z5 measures 146 x 72 x 7.3 mm, a little bit thicker than Z3+. In terms of weight, Xperia Z5 is exactly 10 grams heavier than its predecessor Z3+ and tips the scale at 154 grams.
Though high range Xperia Z5 Premium uses a metal frame but Sony has decided to replace the edges of the Xperia Z5 Dual with a polycarbonate plastic which offers the users to have the premium feeling of a metal frame and also protects from easy denting.
The back of the handset is made of frosted glass or matte glass and this effect boosts up the richness of the chassis. The phone feels nice to the touch and the finish does not look cheap in any means. This handset comes in two classic color variants – white and black, as well as two additional more vibrant options – green and yellow.
The latest flagship of Sony is equipped with a 5.2 inch 1080 x 1920 pixels display but surprisingly bezels have gotten bigger and the phone comes with a screen to body ratio of 69.6%, instead of the 70.9% of its previous version Z3+. Now let's dig into the Sony Xperia Z5 Review a little bit more.
Xperia Z5 Build
Overall, the front side of the Xperia Z5 looks neat and clean. The front camera is placed just to the left of the Sony logo, above the display and does not come with any color or rings, so the camera easily blends in.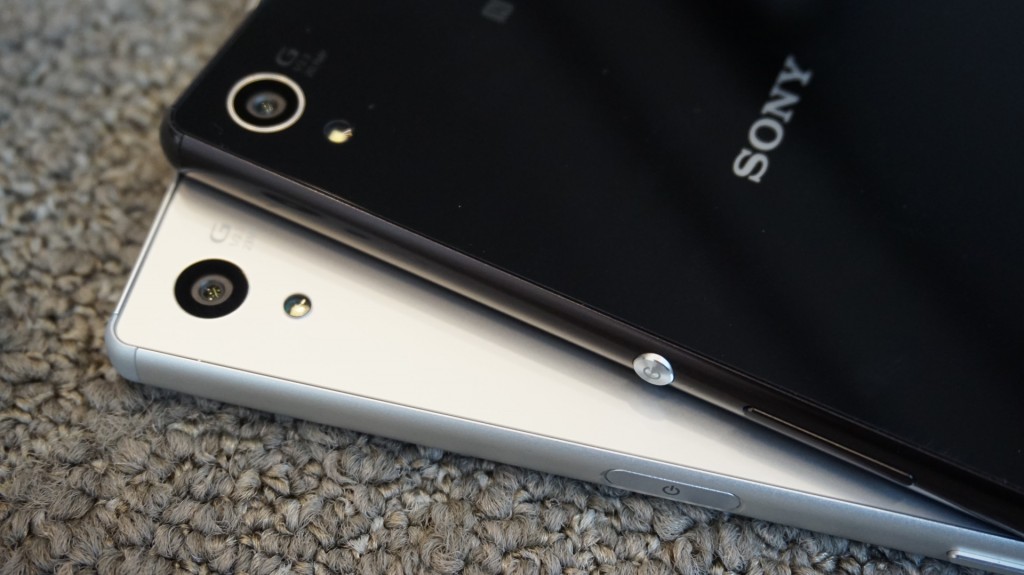 To give a minimalistic look, Sony rids off the earpiece grill and only sports with the symmetrical bottom speaker grill which is eventually the lone thing found underneath the screen. This speaker grill  also houses the main microphone.
While we were using this Smartphone to write the Xperia Z5 Review, we find the left side almost empty while going around the device. The MicroSD slot and the SIM card are hidden beneath a tightly sealed flap. It does a wonderful job of water-sealing and dust proofing the sensitive components.
The right-hand side of the handset is a wee bit more crowded and houses the silver power button. Sony's iconic round power button is vanished and now replaced by a lozenge-shaped button.  The volume rocker button is also placed in the right hand side of the phone but unlike the previous Z series models the volume controller is placed underneath the power button.
Near the bottom, Sony has decided to put a very thin and almost unnoticeable shutter button. It makes taking pictures more easy and convenient.
The 3.5mm headphone jack is rooted on the top of the device, in the left corner, next to the secondary noise-canceling microphone.
The bottom side of the Xperia Z5 is relatively bare as well and only houses the microUSB port.
On the rear side of this device we only found the new 23MP camera along with a single LED flash. Also, on the back there is both Sony and Xperia logo, as well as the traditional tiny NFC logo as this is where the NFC contact area is placed. Now our Xperia Z5 Review will have a look at its display features more closely.
Sony Xperia Z5 Display Review
As we mentioned earlier Sony Xperia Z5 sports a 5.2 inch screen with 1080 X 1920 pixel resolution and 428 ppi, so the phone is not suffering from shortage of pixels. The 1080p resolution also facilitates the added bonus of less strain on the GPU and consequently, less heat and a longer battery life.
The screen has an above average maximum brightness (583nits) and it can go even a little bit higher in bright sunlight when controlled in Auto mode (603nits). Sony Xperia Z5 has an average contrast ratio too (986:1) as a flagship device. In terms of sunlight legibility it gets decent scores (2.876) but still it could be lot better as it is a flagship device.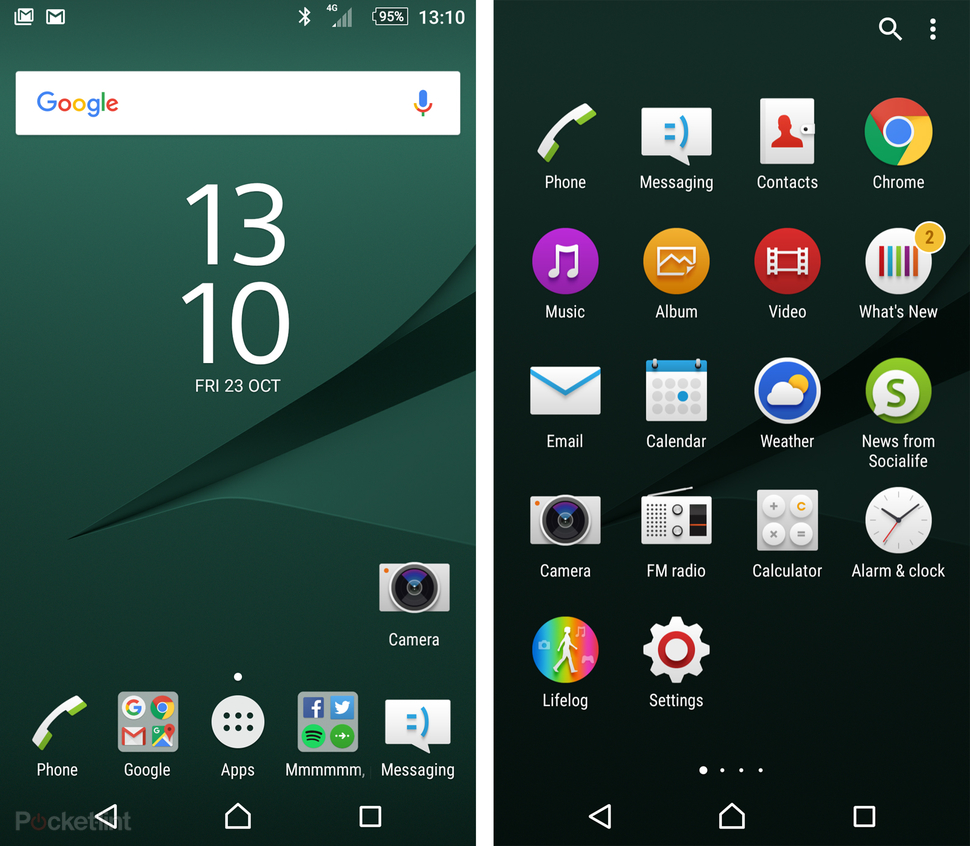 Sony Xperia Z5 Camera Review
Every proper modern day flagship is truly incomplete without a powerful camera and Xperia Z5 does not lag in this niche. Sony has done something remarkable in this segment and equipped all the siblings of this Z5 family with 23 mega pixel shooter.
This 23 MP snapper is paired with an f/2.0 24mm-equivalent wide-angle lens, and coupled with Sony IMX300 multi aspect sensor, this camera can produce quite a  bit more pixels,25 MP more precisely. The 4:3 mode can also produce 5520 X 4140 pixels where as 16:9 mode yields a stunning 5,984 x 3,366 pixels.
You can also shoot 2160p videos at 30fps with the main camera and up to 1080p@30fps with the secondary one. The phone comes with a dedicated two-stage shutter button, which makes focus a whole lot precise, vivid and easier.
In Superior Auto mode videos and stills share the viewfinder and you can click a photo or shoot a video without changing modes beforehand. Also Superior Auto mode no longer feels the need to reduce your resolution and the Z5 can shoot at 5520 x 4140 pixels in Auto, as well as Manual.
In manual mode you get the access of controlling the view finder manually. One can also control the ISO, turn on or off image stabilization. There are also an Augmented Reality effects especially for the children.
When we snapped some demo pictures they look great, vivid, colorful and full of life, but it will be interesting to see how the shooter performs in the real world. There were some issues regarding the corner softness and a lot of noise under low light in the previous Sony handsets. Yes they are still present in this flagship too. But when Sony launched their latest Z series they have promised for a new up gradation of the camera software .So hopefully this Japanese tech giant will sort out these minor bugs.
Sony even claims that they have fixed the thermal issues from which the previous devices have been suffering, especially Z3+, where camera use would cause the phone to overheat and sudden inexplicable shut down. When we examined, the phone went over ten minutes of 4K video recording and only got slightly warm, so perhaps Sony's claim of improved thermal management is justified.
Sony Xperia Z5 Battery Life
Sony Xperia Z5 is powered by a non-removable, 2900 mAh battery, which is commendable with respect to other flagship devices. Sony believes it can offer a two day battery life in normal usage, like two hours of browsing, video playback and calls a day.
Moreover, the option of Stamina mode and an intelligent screen are the biggest USP of this phone – especially the latter seems the most interesting. Actually what the company is offering is ' pausing ' the screen when showing a static image, turning off the CPU so it saves half the power. Given the screen sucks most of the power when a phone is in normal conditions, this could be a the biggest selling point of this handset.
Sony Z5 Performance Review
Sony Xperia Z5 runs on a Qualcomm MSM8994 Snapdragon 810 SoC processor, which is still the chip manufacturer's best offer, at least until the 820 comes along. The processor is coupled with a 3 GB RAM, so Specs-wise, this phone is a true flagship, no doubt about it.
Sony has also walked the extra mile to ensure that this phone handles heat better by employing a dual heat-pipe cooling system and quite a bit of high-efficiency thermal paste which definitely pulls away heat from the chip in an effective manner.
Sony also incorporates the brand new lozenge shaped fingerprint scanner in their latest flagship to bring up the phone to the level of the iPhone and Galaxy S6. The demos were really satisfying. The sensor is reliable and impressive and one have to merely tap the power button to turn on the phone from sleep and it will unlock instantly.
However, despite of these attempts, this smart phone scored less than the other two contemporary flagships, Samsung Galaxy S6 and Apple iPhone 6s in GeekBench 3 rating and AnTuTu 5 rating. Also they  scored less than Samsung Galaxy S6 in Basemark OS II rating.
Connectivity
In the connectivity aspect, Xperia Z5 features dual-band Wi-Fi b/g/n/ac and Wi-Fi Direct and also LTE enabled. The phone also supports Bluetooth 4.1 with A2DP. Satellite navigation is also facilitated, with additional A-GPS and GLONASS or Beidou support.
Being the member of  premium "Z" family, this phone has a few other benefits, like MHL 3 TV-out support. One can also output his/her phone's screen wirelessly via the Miracast protocol or Sony's Xperia Connectivity Throw option.
The app also facilitates you to share your media over DLNA by creating a media server, as well as connect to a PlayStation DUALSHOCK 3 (or 4) wireless controller.
Last, but not least, the Z5 comes with advanced active noise cancelling when paired with a supported handset like the Sony MDR-NC750.
Conclusion
Sony Xperia  Z5  is no doubt a brilliant phone and is a true flagship device by all means. This handset is superbly built and designed, comes with quite impressive specs and definitely worthy of competing in the big leagues. But what concern us while preparing this Sony Xperia Z5 Review is that the steep price and the lack of "WOW" factor it offers. In today's market, there are few other devices which come with almost identical specs but with a lower price tag. You can get both the Galaxy S6 and the S6 edge in a lesser price than Z5.Also you can avail HTC One M9, LG G4, ZTE Nubia Z9 and Motorola Moto X Style in this price range or somewhat below price.
On the other hand if you are an ardent Sony fan and moreover if you love their camera and battery performance, then you will just fall in love with this brand new Sony Xperia Z5.
Sony Xperia Z5 Review
Design -

75

Display -

78

Software -

80

Performance -

82

Battery Life -

88

Camera -

90

Value for Money -

82
Summary
Pros
* Superb Quality Camera
* Amazing Battery Backup
* Reliable Fingerprint Sensor
Cons
* Nothing Extraordinary specs
* Ordinary Design and Body
* Too much Expensive as per features