Xiaomi Mi power banks are quite popular among the smartphone users. The 10,000 mAh power bank by Xiaomi was a massive hit, thanks to its slick design and premium looks. The company was also rumored to be making a huge 20,000mAh Mi power bank. Well, the wait is over and the good news is that Xiaomi has launched a gigantic 20,000mAh Mi power bank on Monday in China. Over the weekend, Xiaomi announced the launch of their brand new, second generation wearable fitness tracker Mi Band 1S and today the Chinese conglomerate offer another accessory by unveiling the 20000mAh Mi Power Bank. Both the fitness tracker and the power bank is currently exclusively available in China with no word on their international launch time frame.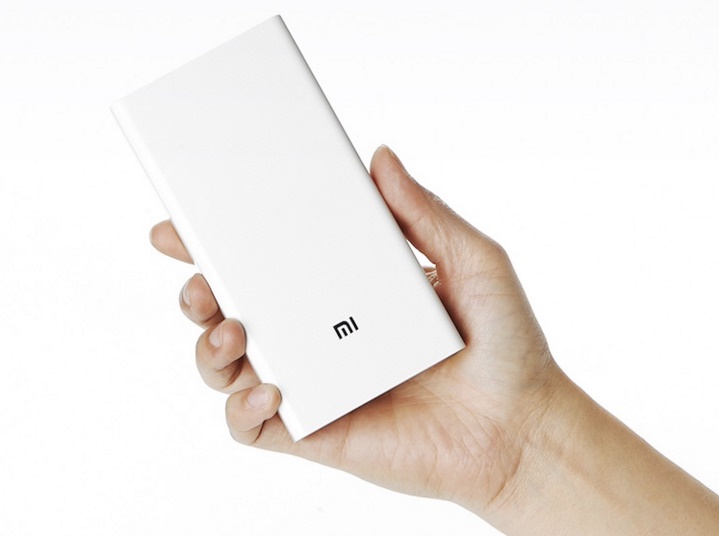 Xiaomi 20,000mAh Mi Power Bank Specifications
The 20,000mAh Mi power bank is powered by six 3350mAh high-capacity cells from LG/Panasonic. This latest power bank weighs 338g, almost 88g more than the 10,400mAh Mi power bank, which is obviously due to the increase in capacity. Thankfully, the 20,000mAh power bank remains compact and slim like its predecessors, thus allowing it to be easily portable.
Mi 20,000 mAh Power Bank Features
The 20,000mAh Mi power bank supports Quick Charge 2.0 by Qualcomm, means you can charge at 5V 2A, 9V 2A,12V 1.5A for a maximum wattage of 18W.Also it is being claimed by the company  that the power bank can be fully charged in 5 hours only! Though no more details have been revealed, we expect the power bank to carry a power check button, four to five LED charging indicators, and at least 2 USB charging ports.
Mi 20,000 mAh Power Bank Price
What's more exciting is the price tag that Xiaomi has fixed for their brand new 20,000mAh Mi power bank. It will only cost you CNY 149 (approx $23.46), which places it in an extremely affordable segment. This new 20,000mAh Mi power bank should be able to provide at least four full charges to a smartphone, which means you can easily forget your charger at home with the new Mi power bank and have to go haywire looking for a charger.