Best Lock Screen Apps for Android: With the evolution of the Android smartphones the Lock Screen apps too have evolved accordingly. At first the lock screen apps were only used for unlocking the screen but now you can check the time, check weather, browse your notifications from various social networking sites, open apps by one click and most importantly provide security to your phone. So among hundreds of Lock Screen apps available in the Google Play Store we have sorted the Best Lock Screen Apps for Android  so that you don't get confused which one is the best for your Android smartphones. So friends, forget the old, boring phone locking system and embrace the new age versatile and multi tasking Android Lock Screen Apps for your handset. Now a days every app is going for power saving through dark mode, a live example is youtube but users often face a strange issue of youtube dark screen after updating browser. We recommend to look at the available fixes of this matter online. Let's discuss our topic.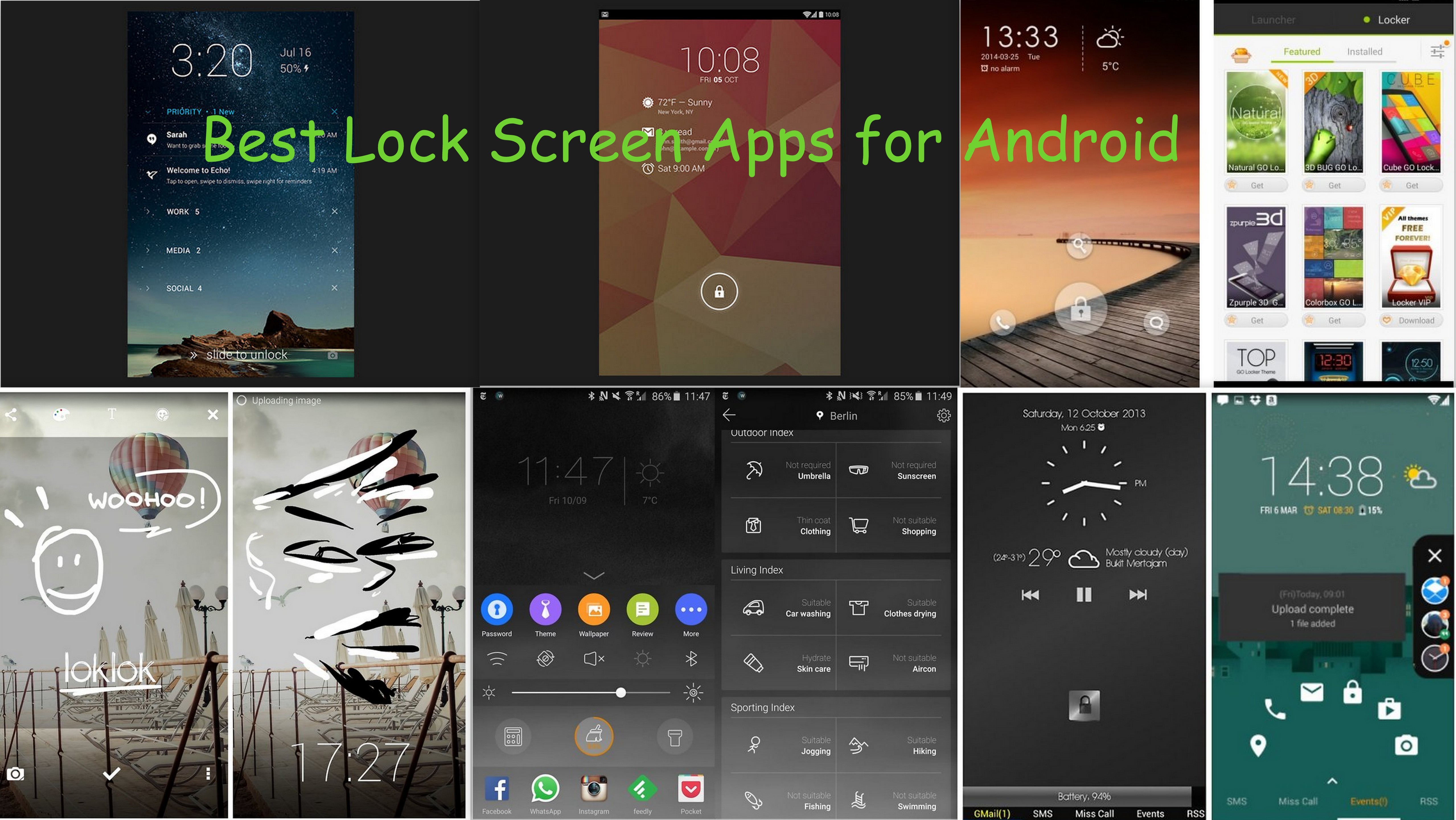 List of Best Lock Screen Apps for Android Smartphones
1>CM Locker
Price: Free
When it comes to the Android Lock Screen Apps, CM Locker is one of the best in the business. This app comes with a slide-to-unlock function, just like the iOS, along with the power-saving feature that cleans out battery-draining apps directly from the lock screen. The app offers both pin and pattern mode to unlock your handset, also features an intruder alert mode which takes photo of anyone who unsuccessfully tries to unlock your phone. CM Locker also allows you to view your recent messages, control your music playback, check the weather forecast, and check your recent notifications from the various social networking sites and other features.
Download CM Locker from here
2> LokLok
Price: Free
LokLok is a unique and fun filled Lock Screen App for Android. Sending texts are boring these days, so this app offers you to draw doodles on your lock screen and then send the drawing as a message to a friend who uses this picture based messenger service too. The picture message will then appear on your friend's lock screen and if they wish they can modify the doodle and send back to you.
LokLok is still in Beta mode, so there are some chances to experience some bugs while using this nifty and one-of-a-kind Android Lock Screen App.
Download LokLOk from here.
3>AcDisplay
Price: Free with the option of in-app purchase.
AcDisplay is also another superb Android Lock Screen app which comes with the active display feature just like the Moto X series offers to its customers. AC Display mimics the functionality of the original active display concept in a more simple, minimally and intuitive fashion, allowing the users to check notifications faster.
Another unique feature of AC Display is the app uses your phone's sensor to tell whether the device is in your hands or in your pocket. Once you take your handset out of your pocket, this Android Lock Screen App lets automatically wake up the screen and show you all the missed events.
Download AC Display from here.
4> Echo Notification Lockscreen
Price: Free with the option of in-app purchase.
Echo is one of the sleekest, cleanest and user-friendly lock screen apps for Android we have put in our list. Echo offers its users a fine level of control and access over their notifications. One can create notification categories, such as 'media', 'work', and 'social', and divide the apps according their functionality. The Echo app is fast, reliable, intuitive and only one tap is enough for giving reply to a text message or make a phone call.
Download Echo Notification Lockscreen from here.
5> Next Lock Screen
Price: Free
Being from the house of Microsoft, Next Lock Screen provides you a glimpse at how the future Lock Screen apps for Android will behave. The app is clever, simple as well as elegant and aims to save your time by coming up with smart suggestions based on your usage patterns. Next Lock Screen allows you to launch apps, call people, check calendar, on screen music controls, gesture-based navigation and interact with notifications without even unlocking your device.
Download Next Lock Screen from here.
6> C Locker Pro
Price: $2.49
C Locker Pro is an Android Lock Screen App which is famous for its unusual locking styles and offers a ton of features and shortcuts to refine your lock screen. The app comes with the traditional slide-to-unlock or the swipe-up-to-unlock methods as well as the bubble unlock methods.
C Locker pro features 30 custom shortcuts you can create to access apps, make calls or read notifications from your preferred social networks. One of the most unique features of this app is to double- or triple-tap your screen to turn it off, a feature often seen in the high-end phones.
Download C Locker Pro from here.
7> DashClock Widget
Price: Free
Brainchild of the Google engineers, DashClock is not a proper Lock Screen App, but the functionality this unique application offers makes it worthy of this title. The app supports plenty of first and third-party extensions, allowing you to quickly see time, notifications, missed calls, current weather conditions, and unread chat messages.
Download DashClock Widget from here.
8> GO Locker
Price: Free/$19.99 for the Premium Version
Go Locker is one of the most popular Android Lock Screen apps of all time with close to 100 million download. The main USP of this beast of a lock screen is the app comes with a huge collection of themes which can run on most of the Android devices. Apart from that, this lock screen app offers an array of ways to unlock your phone and present the apps you want to access most quickly. The app has an option of shortcuts like switching Bluetooth or mobile data on and off from the lock screen, read messages and other features every lock screen has.
Download GO Locker from here.
Wrap up
So friends, hopefully this list of the Best Lock Screen Apps for Android has guided you a lot to decorate your smartphone according to your requirements. You can choose any of the above mentioned apps as every apps comes with the same motto; to ease your smartphone using experiences and save your precious time. Some apps are famous for their unique features where as some give focuses on the functionality issue. It is up to you which one you will go for. If you have any problem with the downloading the list of top Lock Screen applications for Android we have mentioned, you can put your queries in our comments section. We will help you as soon as possible.