Lenovo recently unveiled Idea MIIX 310 Tablet at MWC 2016. Besides the expensive Yoga lineup, Lenovo has announced this budget friendly office tablet with a practical keyboard cover. The device is actually a hybrid between a laptop and tablet. It was put out to the public alongside two other tablets at the Mobile World Conference 2016, namely – Fujitsu 2-in-1 STYLISTIC Q736 tablet and Alcatel Plus 10. We have already done an in-depth discussion on both of these. Now in this post we are going to discuss Lenovo Idea MIIX 310 Tablet. It's worth mentioning that the Yoga series – Yoga 710 & Yoga 510, were both unveiled along with Lenovo Idea MIIX 310 Tablet. In terms of price, the tablet costs  €269 (approximately Rs. 20,000).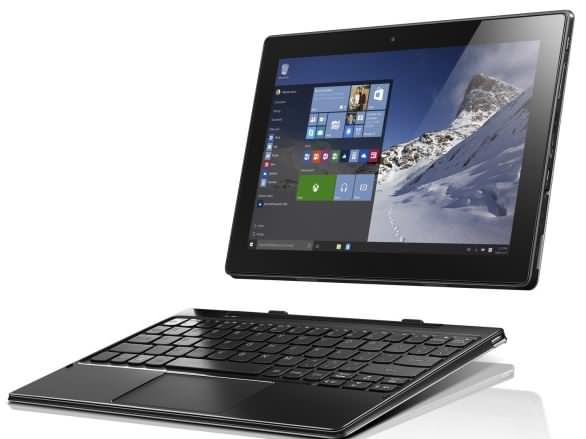 This two-in-one tablet sports 10.1-inch tablet full high definition display with 1920 x 1080 pixels resolution. Apart from the regular HD screen, with 180-degree viewing angles. The device is powered by Intel Atom X5-8300 processor that comes along with integrated Intel Graphics and is clocked at 1.44 GHz (Cherry Trail). The tablet offers 2GB of RAM and 128GB of internal memory space. Providing the bare minimum camera, Lenovo Idea MIIX 310 Tablet comes has a 5MP rear camera and a 2MP front selfie camera. The company promises that the battery will last 10 hours and weighs 580 grams in weight.
RELATED POST: Fujitsu Announces 2-in-1 STYLISTIC Q736 Tablet at MWC 2016
The keyboard that comes with the tablet has a detachable option too so you can you it like a tablet whenever you want and like a full-fledged Windows 10 laptop whenever convenient. Speaking of connectivity, the device supports Bluetooth 4.0 with optional 4G LTE and Wi-Fi 802.11 b/g/n.
Lenovo Idea MIIX 310 Tablet Specifications:
Runs on Intel Atom X5 Processor
10.1-inch display with optional FHD display
Up to 128 GB of internal storage
Up to 4GB of RAM
Snap-on Keyboard which comes with the package
Optional 4G LTE antenna
Available later this year in June
RELATED POST: Alcatel Plus 10 2-in-1 Windows 10 Tablet Announced at MWC 2016
Wrap Up:
Our verdict would be that the Lenovo Idea MIIX 310 is an impressive convertible device. The well-conceived cover is praise worthy and the keyboard comes quiet close to a standard keyboard. Although we'd have been happier if the batter was more powerful. For more news and launched devices at the Mobile World Conference (MWC) 2016, stay tuned to our site.