It's MWC 2016 or we can say it's the feeding time for the billions of gadget loving people from all over the world. Almost all the major Smartphone manufacturing company wait for this Mobile World Congress event to announce their most anticipated products. Prior to the MWC 2016 Samsung announced their upcoming flagship device Galaxy S7 and to counter that LG has also made its point clear by announcing the LG G5 Smartphone. In this article we will try decode the Samsung Galaxy S7 vs LG G5 comparison in terms of their design, features, longevity and a few more factors. So if you are yet to decide whether to Choose Galaxy S7 or LG G5 as your new Smartphone for this year then this article is for you only.
Samsung and LG are fierce rivals and both want to capture the major shares of the world Smartphone market with their upcoming flagship devices. We think it's our responsibility to make the Samsung Galaxy S7 vs LG G5 comparison picture clear to our beloved readers. We have seen many encounters between these two South Korean companies in the past and this time it's time for another clash of the titans for sure. Now let's get started to check out what are the core differences between the LG G5 and Galaxy S7 right here right now.
Samsung Galaxy S7 vs LG G5: Design and Look
In the last year's MWC event Samsung shocked everyone by introducing the Galaxy S6 with premium design input and bringing the much awaited metal and glass body in it. However, this time the all new Galaxy S7 isn't offering anything as great as that as it features the same kind of metal, slim body just as its predecessor. On the other hand LG has picked this opportunity beautifully by completely revamping the design of its flagship device LG G5. This upcoming flagship device will feature a full metal body and within its power button a fingerprint sensor has been added on the rear to make this Smartphone best in its class.
Samsung has tried to combine the best features of Galaxy S6 and Galaxy Note 5 in its new product the Galaxy S7. This device is carrying the same old premium metal and glass body construction just like the Galaxy S6 and it is also having the much needed curves along the sides of the back just like the Galaxy Note 5. This Korean giant has strategically kept the fingerprint sensor of Galaxy S7 on the front while the interesting protruding camera lens on the back side of the phone. This Smartphone weighs 152 gram and measures 149.4*73.9 *7.7mm which make this Smartphone heavier and larger than its predecessor.
On its contrary LG has taken a bold step by making LG G5 entirely different in terms of design. The company has integrated an inbuilt fingerprint scanner to this flagship on the rear with the power button. This South Korean mobile manufacturing company has finally adopted the full metal unibody construction to offer something awesome to its users. LG G5 offers one extraordinary thing which even the mighty Galaxy S7 has failed to offer and that thing is the replaceable battery. LG G5 measures 149.4*73.9*7.7 mm and weighs 159 gram making it a little larger in size and heavier than the Galaxy S7.
Our Take
Now comes the tough part, as both the Smartphones offers pretty awesome features in terms of design so it's quite tough to pick a winner among them. The outstanding changes in the LG G5 design (metal body, premium designs, quality build) has surely made it even stevens with the Galaxy S7. However, we would like to give the LG G5 an upper edge here vastly because of the revolutionary changes while keeping the users' need in mind.
Winner: LG G5
Galaxy S7 vs LG G5: Display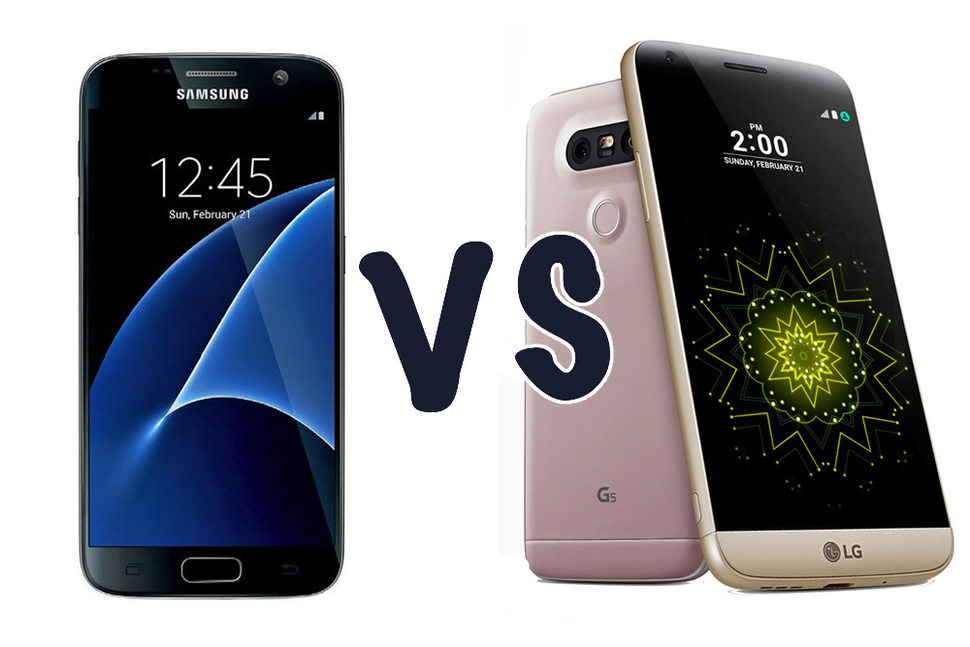 Samsung announced its Galaxy S7 Smartphone with 5.1-inch Super AMOLED display along with a Quad HD resolution. On the other hand LG has manufactured its baby the LG G5 with a 5.3-inch IPS LCD display. The best part is both of these Smartphones will support 4K HD resolution. This makes LG G5 having the larger display screen between the two but Samsung Galaxy S7 is the sharpest as it features 577 PPI (surely a few extra pixels per inch than the G5).
This year LG and Samsung both has opted for introducing the "Always On" display feature in their upcoming flagship models. The "Always On" display mode shows all the important information on the main display even if the phone is locked. In simpler terms one part of the display will remain active all the time to show time or other important pieces of information. Here the Galaxy S7 is likely to get an upper edge over LG G5 as it should offer few extra pieces of feature as far as this exciting Always On display is concerned. This new feature won't consume much of the battery power (less than 1% per hour) in both the devices.
Our Take
The main difference between these two devices is that one offers AMOLED display while the other features LCD screen. We all know that AMOLED screens are much brighter than LCDs with more vibrant color options, but LG has previously manufactured some great Smartphones (in terms of display) having LCD display. In short we can conclude that both of these beasts will offer almost the same kind of display experience so it will entirely depend upon you whether you would go for AMOLED or the LCD.
Winner: Samsung Galaxy S7
Samsung Galaxy S7 vs LG G5: Performance and Hardware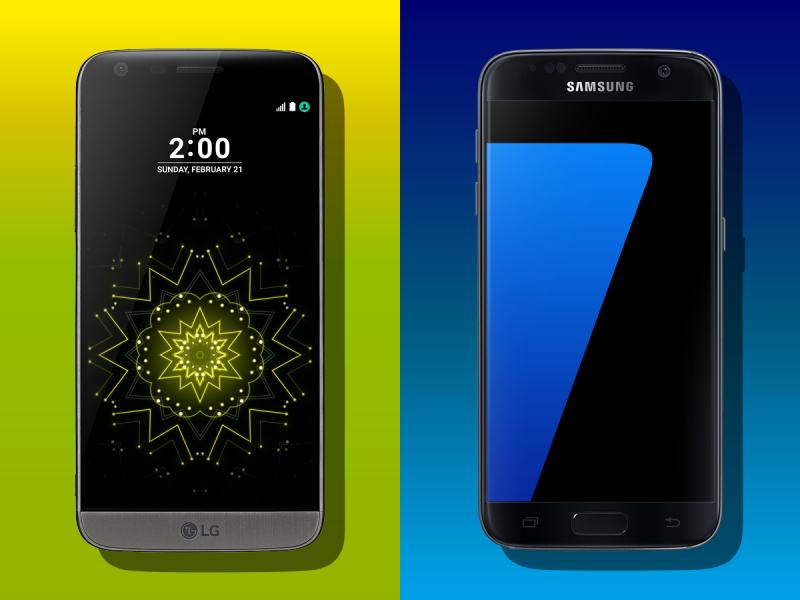 Samsung has mentioned that it will launch two different versions of the Galaxy S7, and one of the variants will feature the Samsung Exynos 8 Octa-Core Qualcomm Snapdragon 820 processor and the other will carry a quad core processor, depending upon the region and market. On the other hand LG G5 is coming up with an octa-core Qualcomm Snapdragon 820 processor, backed by the Adreno 530 GPU and 4 GB of RAM and 32GB of internal storage with the support of microSD. Samsung Galaxy S7 will also be having 4GB of RAM and 32GB and 64GB internal storage options with the support of microSD. It has to be mentioned here that this internal storage option has been specifically reintroduced for Galaxy S7 by the company. This makes it the competition between LG G5 vs Samsung Galaxy S7 really exciting for sure.
The Galaxy S7 comes with a 3,000 mAh battery which is more powerful than 2,800 mAh battery of LG G5. But LG is providing users' option of removing the battery if needed which the Galaxy S7 is missing. However, Samsung has added wireless charging feature in Galaxy S7 which the LG G5 is not having. The best part is that both of these devices are equipped with fast charging capabilities.
Our Take
Samsung Galaxy S7 is lacking innovation for sure as most of its hardware features are predictable and conventional, and that's the area where LG G5 has beaten the Galaxy S7 comfortably. LG is offering one of its kind expandable experiences to its users with their upcoming flagship product. Users can easily add whatever the functionalities they want to the Smartphone by simply popping out the bottom portion of the device and connecting the battery to a brand new module solely depending on the needs. For example, you can add a Hi-Fi audio DAC at the bottom if you wanna enhance the overall audio experience or you can even add a CAM Plus (camera module) to optimize the picture taking experience. Cam Plus adds few extraordinary hardware buttons (like shutter button, zoom scroll, recording button etc) to make things even more amazing. In short we can say that LG G5 will be a much better option for you than the Galaxy S7 if you like out-of-the-box-concept.
Winner: LG G5
Samsung Galaxy S7 vs LG G5: Camera
The predecessors of both of these upcoming devices are having awesome cameras, and that's why both the companies are looking forward to score big in this specific area with the mega launch few months later. The Galaxy S7 sports 12 mega-pixel rear camera with an f/1.7 aperture lens, which offers larger 1.4µm pixels. As per our prediction the camera of Galaxy S7 will produce some great shots specifically in the low light conditions.
On its contrary, LG G5 is having two different rear cameras on its back. The company has added an 8 MP wide angle lens in order to provide the much needed support to the 16 MP standard lens primary rear camera on its back. The company has claimed that switching between the two rear cameras will be as easy as drinking water. With two rear cameras on its back, the LG G5 is all set to provide wider angle of view to its users.
Our Take
Samsung Galaxy S7 features a 5MP front facing camera compared to an 8MP front camera of the LG G5. We are yet to test the cameras of both of these devices as the phones are yet to be launched officially, but we can assure you that you can expect some pretty awesome things from both of these.
Winner: Both
Galaxy S7 vs LG G5: Software
Both of these upcoming flagship Smartphones will be running on newly launched Android Marshmallow out of the box but it is quite obvious that their parent companies will be adding some extra features in it to make their products better than the rest. It simply means neither the Galaxy S7 nor the LG G5 will be providing a stock Android experience, and it won't be same for quite obvious reasons.
Samsung has provided its users with a much familiar experience while adding some good features to this beast such as the Games Launcher and Samsung Pay. The upcoming Galaxy S7 will also sport Samsung's very own security software named as Knox out of the box.
LG has finally listened to its user's plea and removed the app drawer for the G5 in a bid to offer an easier and simpler user experience. LG G5 is scheduled to offer a better streamlined experience by purely eliminating the app launcher from its tray. The company is dedicated to provide a cleaner software experience thus it has scrapped features like Q Slide and Multi Window from the LG G5.
Our Take
The Galaxy S7 vs LG G5 software comparison has proved one point and that is both of these devices are going to rule the market at least for few months for sure. Both the companies have focused on performance enhancements and smoother user experience this time and thus we can expect a really good fight between them.
Winner: Both
Samsung Galaxy S7 vs LG G5: Conclusion at the End
Samsung has kept it short and simple with its Galaxy S7, as it has not drastically changed its upcoming flagship model from its predecessor. However, it has added the expandable storage option and few good additions in features, such as dust and water resistance. So if you are currently using Galaxy S6 with love, then the beast Galaxy S7 is waiting for you.
But, LG has gone all out this time with its LG G5 model. It has added many innovations and out of the box facilities to make this Smartphone one of the best phones of 2016 for sure. If you love innovations then you should be the first one to purchase LG G5 this year.
At the end in order to conclude this Samsung Galaxy S7 vs LG G5 comparison, we can only say that it's entirely depend upon you what to choose between these two devices. Both of these phones are almost at par in terms of features, designs etc. So it's difficult to pick one clear winner among these two Smartphones. We can only say that choosing Samsung Galaxy S7 will be safer but purchasing LG G5 will be more fun and exciting. Now choice is yours!!