Several reports have speculated that Motorola may introduce a new smartphone in the near future under its Moto brand name, widely believed to be the Moto M. Finally, a new smartphone from the company with the model number XT1662 has been spotted as listed on TENAA, the Chinese certification system similar to the US FCC. The listing reveals the upcoming phone with a pretty good view of it from several profiles. But the name of the device is not yet known for sure.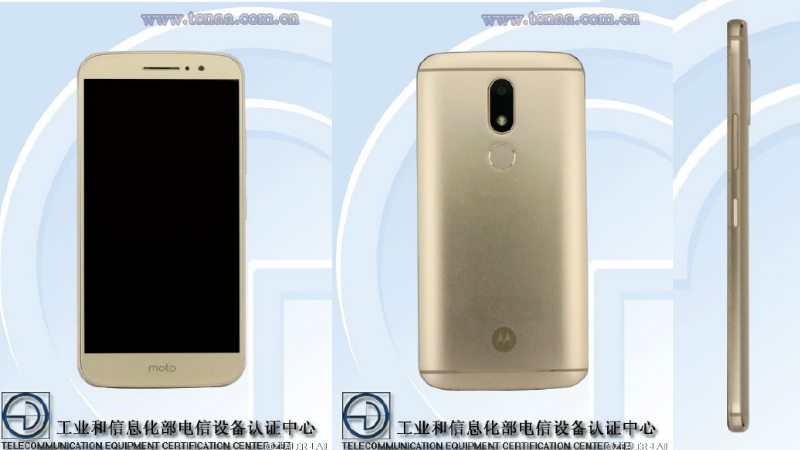 Pictures of the newly listed smartphone show off the device's fully metal body along with a slightly curved back and a fingerprint scanner embedded just below the camera module. The specifications of the unnamed XT1662 model have not been provided in great detail by the site. However, whatever little information we have got hints at a 5.5-inch display, a 3,000 mAh battery, and 4G LTE support, with its dimensions being 151 x 75 x 8 mm. But it is not known which Android version the phone will run.
Rumours about the Moto M had been floating around in the tech world for a while. While many are speculating that the listed smartphone is none other than the Moto M (which is also supposed to come with a fingerprint scanner), the latter is supposed to come with the model number XT1663, making it somewhat difficult to link the two devices beyond a shadow of a doubt. Incidentally, the XT1663 was also seen as listed on a graphics benchmark database not too long ago. Some of the key specifications of the listed device are a 4.6-inch display with a pixel resolution of 1920 x 1080, a 16 MP primary camera, and an 8 MP front shooter. The smartphone will be backed by a 1.9GHz MediaTek MT6750 octa-core processor, coupled with 3 GB RAM and 32 GB internal storage. It will run Android 6.0 Marshmallow.
There are some obvious differences between the specs of the two models. But if there was an association of sorts between the two listed devices, the TENAA listed model, XT1662, may very well be the larger counterpart of the Moto M (XT1663), called Moto M Plus. If that were the case, the XT1662 may also come with similar specs as the XT1663, like a 16 MP primary camera, an 8 MP front camera, 1.9GHz MediaTek MT6750 octa-core chipset, 3GB of RAM, and 32GB of storage, while running Android Marshmallow on board. However, all this is just speculation, with no concrete evidence other than the individual listings.