American Consumer Electronics manufacturer Belkin International, Inc.has played saviour for Potential iPhone 7 users by introducing their new product, the Lightning Audio + Charge RockStar. With the omission of the headphone jack in Apple's latest flagship device, there is one question which will be there in every iPhone 7 buyer's mind. How will one charge the device and simultaneously listen to music on it?
Well, Belkin, who specialises in accessory products have come up with an answer for that with their new adapter. This device plugs into the iPhone's Lightning port, and includes two Lightning ports on the other end to plug in the EarPods and the charging cable.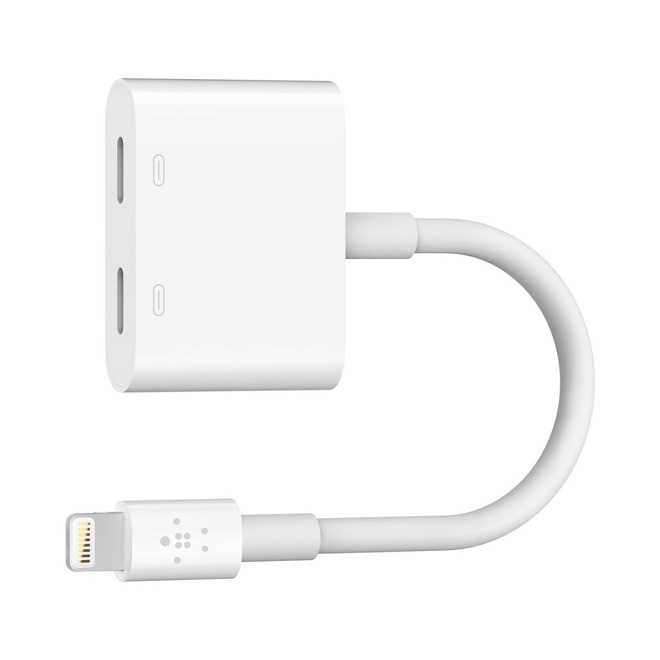 Belkin Lightning Audio + Charge RockStar Product Features:
Supports pass-through charging up to 12W for iPhone and iPad.
Supports up to 48 kHz, 24-bit audio output.
Compatible with Lightning Audio headphones† and Apple Lightning to 3.5 mm Headphone Jack Adapter.
Dual functionality so users can listen to Lightning Audio and charge at the same time.
Works with the Apple iPhone 7 Smart Battery Case and battery packs for on the go charging.
"We're excited to offer the Lightning Audio + Charge RockStar to our customers, extending our family of RockStar multi-port products and creating an easy way for people to charge and listen on the go."
-Steve Malony, Vice-President, General Manager, Belkin.
Where will the device be available and how much will it cost?
With the pre-orders of the iPhone 7 and iPhone 7 plus to begin today, Belkin plans to start selling the Lightning Audio + Charge Rockstar on October 10 for $39.95. It will be available from the Belkin website, the Apple online store, and Apple retail stores.