FIFA 17 exclusive India partner, Amazon has listed the title on their site with a release date of September 30. The game series was released on 27 September 2016 in North America and 29 September 2016 for the rest of the world.
According to NDTV Gadgets, sources close to the e-commerce giant has revealed that there's a tiff going on between Amazon and EA at the present moment. The source reveals that EA despite being a strong publisher in the country , its recent moves like price drops on Battlefield 1 and Call of Duty: Infinite Warfare hasn't gone down well with the e-commerce site. Of course, the delay is going to make matters worse.
The pre-orders at Amazon India were announced quite early, you'd think that the title will be available on time but that's not happening. The customer dissatisfaction and disappointment on this one hangs heavy. A proprietor of an independent video game store has told the publication: "Our phones have been ringing all morning. Because we were able to procure stock of FIFA 17 on Monday itself, we should be out of the game by the end of today."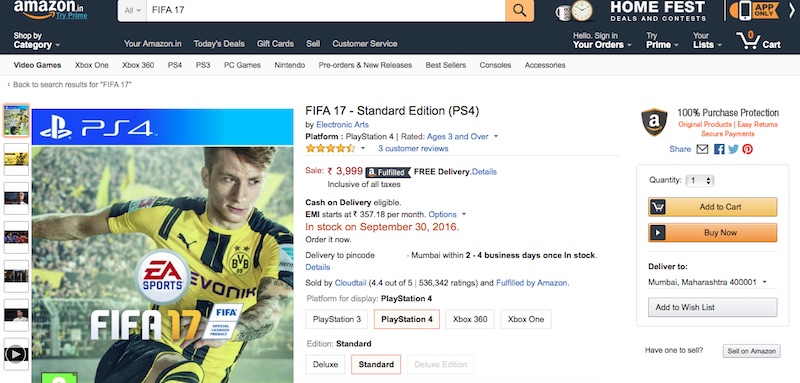 Owing to street date break in the UAE last week, certain small stores have managed to have the title early on their shelves. The market is currently flooded with imported or smuggled copies of FIFA 17 that costs between Rs. 3,800 to Rs. 4,300. The difference in the price has to do with the store you are buying the title from.
Fifa 17 is currently on sale in North America on Xbox One and PS4 and is available from Amazon.com from $59.99. Prime customers can get a discount of 20 per cent. FIFA Gamers UK, Europe and Asia can too pre-order the game. In the UK, the deluxe edition is available for £59.99 on both Xbox One and PS4 from Game while the Xbox 360 deluxe version is slightly cheaper at £57.99. The standard version costs £45.99 on both consoles.