A week ago we reported that LeEco Le Pro 3 is the new smartphone to look out for with its gigantic battery capacity, though we were not quite sure about the rumoured ultra thin body that the company is supposed to pack the battery within. But as time moves forward, more such reports are surfacing, pushing the upcoming smartphone's mammoth specs towards us in such a way that we can no longer ignore them as mere rumours.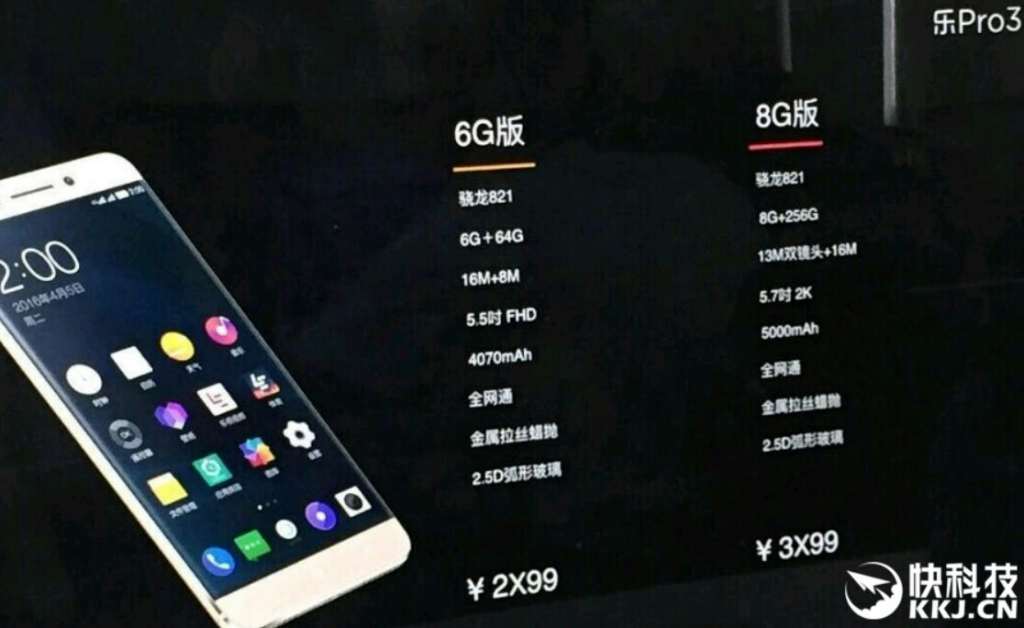 As per the latest leak to have surfaced in the form of a spec sheet along with an image, the Le Pro 3 will be a beast of a phone. If we are to go by what is said in it, the Le Pro 3 is likely to be offered in two variants. For the lesser variant, this version will sport a 5.5-inch full HD display with a pixel resolution of 1920 x 1080, along with a 2.5D curved glass panel. The smartphone will be powered by a Qualcomm Snapdragon 821 64-bit quad-core processor, coupled with a sizeable RAM of 6 GB and 64 GB of internal storage. Coming to the camera feature, this particular model will be equipped with a 16-megapixel primary shooter at the back along with an 8-megapixel secondary front camera for video calling purposes. The smartphone will be backed by a 4,070mAh battery.
But if you think you find these specs to be impressive, take a look at what the higher end variant of the Le Pro 3 could come equipped with. This power-packed model that will also pack in the Snapdragon 821 processor is said to come with a whopping 8 GB RAM. Alongside that, it will carry 256 GB of internal storage capacity, according to the leaked specs. Moving ahead to the camera, this particular model will apparently feature two 13-megapixel cameras at the back as its primary unit, along with a 16-megapixel secondary camera at the front. The phone will also be larger than its more modest sibling, with a 5.7-inch QHD display with a pixel resolution of 2560 x 1440 and a 2.5D curved glass panel. The most significant piece of info about the upcoming smartphone is that it will pack in a massive 5,000mAh battery unit, which according to earlier reports, will be packed into a slim body measuring at just 7mm.
The leaked image also hints at the possible price points of the two models. While the lower-end variant of the LeEco Le Pro 3 may cost anywhere between 2,099 and 2,999 Yuan (INR 21,000 to 30,000 approx), the price of the 8 GB version will range between 3,099 to 3,999 Yuan (INR 31,000 to 40,000 approx).
With the newest leak, it is clear that LeEco is aiming to make the Le Pro 3 one of the most heavy duty performers on the market. The company will be hosting a press conference in China on September 21, so we may expect to see the Pro 3 being officially revealed on that day.