LG has unveiled its newest flagship smartphone, the LG V20. As a successor to yesteryear's V10, the new smartphone promises a considerable boost in terms of specifications and looks. But while the V20 adheres to the normative list of features seen on most high-end smartphones these days, what makes it most special is the fact that it is the first smartphone to run Android 7.0 Nougat straight out of the box. The V20 also marks the first time a next generation Android OS has been launched on a non-Nexus device.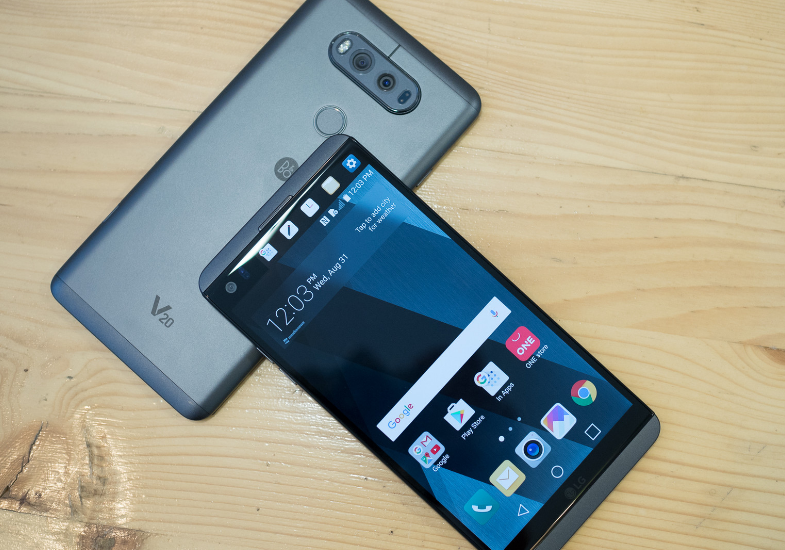 These factors alone may seem to make the phone a bit of a novelty in the world of Android smartphones, but there is a whole lot more on offer. First off, the LG V20 is a much better looker than its predecessor, which sported a plastic and rubber body. The V20, on the other hand, will come with a less bulky, fully metal body with a fingerprint scanner at the back.
LG V20, the Successor of the V10
Like the V10, the V20 also sports a secondary display housed at the top of the phone. But this time around it will offer brighter and better viewing with increased font size. An added feature of the secondary display allows users to tap and enlarge notifications for quick viewing and responding. The V20 also comes with a dual rear camera setup at the back, a system that seems to have taken mobile manufacturers by storm. As for the new smartphone, it will come with Dual 16 MP camera system accompanied by a dual LED flash. For selfies, it will offer a 5 MP secondary shooter with an auto-shot feature.
But what makes the V20 an absolute delight is its sound system. The V20 will come with a 32-bit Hi-Fi Quad DAC, with 4 ESS digital to analogue converters working in perfect synchronisation to make for a better listening experience. The system will facilitate the reduction of peripheral noise along with a major boost in audio quality. The Korean manufacturers claim that the V20 is the first smartphone to come with this feature.
As for the basic specs, LG V20 will be powered by a Qualcomm Snapdragon 820 processor coupled with 4 GB of RAM and 64 GB of internal memory (expandable up to 256 GB via microSD). The device will be backed by a removable Li-ion 3200 mAh battery, and will be available in three colour options- Titan, Silver, and Pink. The phone is expected to be available in India not long after its initial launch in Korea. For a quick glimpse of the LG V20's key specifications, take a look below.
LG V20 Key Features & Specs
Display: 5.7 inches, IPS LCD capacitive touchscreen with pixel resolution of 1440 x 2560,
Secondary Display: 2.1 inches, 160 x 1040 pixels,
Processor: 1.6 GHz Quad-core Qualcomm Snapdragon 820 chipset,
RAM: 4 GB,
Internal Storage: 32/64 GB (expandable),
Primary Camera: Dual, 16 MP,
Secondary Camera: 5 MP,
Sensors: Fingerprint, accelerometer, gyro, proximity, compass,
Battery: Removable, Li-Ion 3200 mAh,
Dimensions: 159.7 x 78.1 x 7.6 mm,
Weight: 174 g.