Earlier in September, Reliance had launched the new JioFi 4G portable hotspot with OLED display that was powered by a bigger 2,600 mAh battery compared to its predecessor's 2,300mAh battery to address the problem of quick battery drainage. Now, the communications giant has launched a new product to make wireless internet connectivity more convenient. The new Wifi hotspot from the company, named Reliance Jio Dongle 2, is powered by a USB port instead of a built-in battery, thereby driving out the issue of significant power drainage that is experienced in most hotspots including the JioFi device. The removal of a battery pack has also resulted in a less bulky design.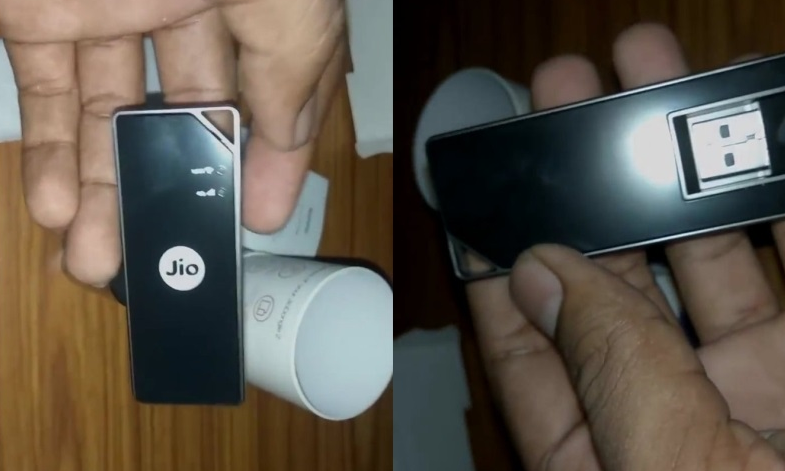 Like most dongles, the Jio Dongle 2 will require being plugged into a laptop to be enabled. The new dongle is priced at INR 1,999 and is available for buyers at select Reliance Digital stores as well as other authorised dealers across the country. It is priced similarly to all the other hotspot devices that have been launched by Reliance earlier, namely the JioFi and the JioFi 2.
The Jio Dongle 2 looks quite familiar as far as dongles go. It is a sleek, rectangular device with a retractable USB connector that comes in a cylindrical shaped box. Other than the primary device, the box also contains a power adapter for plugging the dongle in. As has been noted earlier, the new device needs to be connected to either a power source or a laptop to generate a signal. The Reliance Jio Dongle 2 has two LED signal indicators, with each catering to WiFi and 4G signal strengths. Users can insert their Jio SIM card by removing the back panel of the device. The Jio Dongle 2 is capable of connecting up to 10 WiFi-enabled devices simultaneously to the internet on the Jio 4G network, Additionally, the Jio Dongle 2 will come with the Jio app suite as well as a warranty card that will cover a time period of 1 year.
Reliance has been on a roll ever since it launched its Jio 4G internet service throughout the country, launching a barrage of options that will enable users to avail their high-speed network. We are sure that the company does not intend to stop with the Jio Dongle 2.