A new report about the Xiaomi Mi Note 2 has surfaced just before its expected launch scheduled for Tuesday, October 25. The Xiaomi Mi Note 2 has been a talking point in the smartphone and gadget community ever since anyone first got a whiff of it, and many of its anticipated features have been highlighted by several sources around the world. But the newest such report raises questions one of the most talked about features of the upcoming smartphone.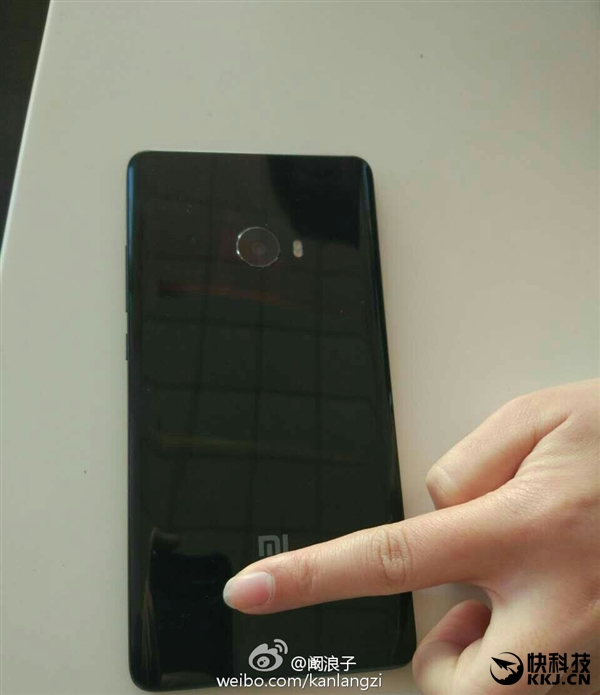 According to Android Headlines, a new leak has surfaced on a Chinese website which contests the widely believed dual camera setup on the Xiaomi Mi Note 2. The new images that the report provides as proof feature a Xiaomi smartphone sporting not two, but one single camera at the back.
The phone featured in the image could easily be the Mi Note 2: its display flaunts a dual-curved design a la the Samsung Galaxy Note 7, and the device sports the Mi branding on the top left corner. Other features that can be seen in the pictures include the smartphone's physical home button that is expected to double as its fingerprint scanner and an all glass and metal design. The power button and the volume rocker can be seen on the right-hand side of the device.
But the feature that stands out the most is the camera module showcased at the back. However, we would do well to remember that Xiaomi is rumoured to introduce the Mi Note 2 in at least two different variants. The higher-end version will cater to those buyers who prefer to go for premium features.
This model is expected to sport a 5.7-inch Quad HD AMOLED display and will be powered by Qualcomm's Snapdragon 821 coupled with 6 GB of RAM and 128 GB of onboard storage. It is highly possible that this premium version of the Xiaomi Mi Note 2 will be the one to feature the dual camera setup, while the one shown in the leak may better resemble the base model that is expected to come with a standard camera module.
The Xiaomi Mi Note 2 is also rumoured to come with an iris scanner, and several reports suggest that the upcoming smartphone may just be the most expensive device to come out of Xiaomi's stables to date. While none of these has been confirmed by Xiaomi, we are not standing too far away from figuring out what the makers may ultimately have in store.