Microsoft Edge vs. Google Chrome: Microsoft Edge may just have edged out its closest competitor Google Chrome and won the tag of being the most secure browser available commercially right now. Over the last many years, Internet Explorer, the standard and bundled browser on all Windows browsers before Windows 10 released, had been the subject of flak and often ridicule. Given that Google's Chrome has been the most popular of all available browsers over the last few years, this may be seen in context as a significant turnaround for Microsoft. We have a battle of two giants lined up for you below.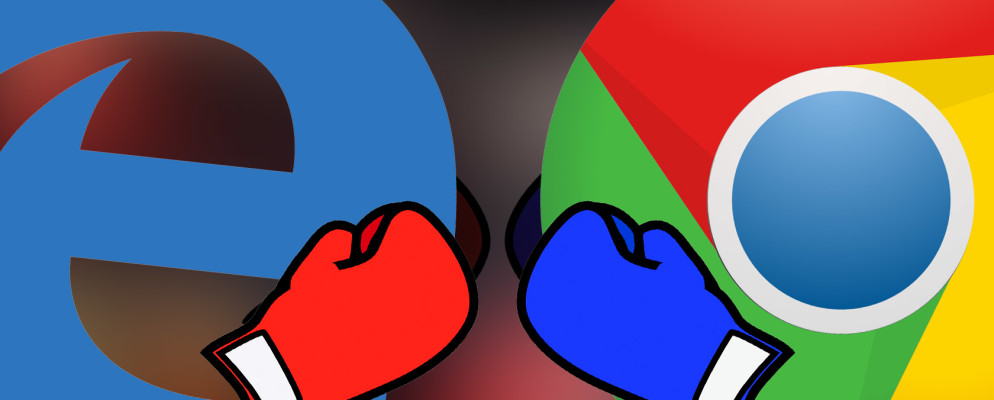 Microsoft Edge vs. Google Chrome: Comparison
Note that we are using a PC with a Core i3 processor and 4 GB RAM for our testing. Installed versions are Google Chrome (v 53.0.2785) and Microsoft Edge (v 38.14393.0.0) and running Windows 10 Professional.
Microsoft Edge is Safer Than Google Chrome
NSS (a US-based independent network and security testing organisation) tested the above-mentioned builds of the browsers that went live near the end of last month. Each was subjected to the same set of more than 5,000 malware samples and nearly 1,000 phishing URLs, and Edge came out on top in both tests. In fact, when compared to results performed on Firefox, of the three browsers, Edge was the only one to score higher than 90%.
In the tests conducted by NSS Labs, Microsoft Edge was able to detect almost all malicious downloads while Chrome only picked up around 85 percent of these threats. The 'SmartScreen Application Reputation' and the 'URL Filtering' features of Edge have contributed to these improved results between Microsoft Edge vs. Google Chrome.

Socially-Engineered Malware (SEM) Tests
During the socially-engineered malware (SEM) tests, the two browser's built-in defences, such as Microsoft's SmartScreen and Google's Safe Browsing API were asked to react and filter pages that use popups/fake notifications or were used to trick users into downloading fake software and updates which contain malware. Microsoft Edge was able to pick up 99% of all such bogus and harmful links; Chrome detected only 85.8% of them. Edge showed a 98.7% detection rate for never-before-seen malware, while Chrome detected only 92.8% of all threats.
Phishing sites
Microsoft Edge dips slightly down to 91.4%. but still higher than Google Chrome at 82.4% to warn users or stop loading phishing sites. Edge was also the quickest to block new phishing sites that were encountered, at 24 minutes, almost four times quicker than Chrome.
Microsoft Edge vs. Google Chrome: Other Factors
Speed
Microsoft Edge takes 1.13 seconds to launch beating Google Chrome which takes 1.53 seconds. Microsoft Edge is slightly quicker to load.
Memory Usage
Upon opening Gmail, Windows Blog, Official Android Blog, YouTube, Facebook and Twitter simultaneously on both the browsers the Microsoft Edge consumed 918 MB and Google Chrome used 516 MB of available memory. Microsoft Edge takes a lot more memory.
Compatibility
Microsoft Edge works on Windows 10 and Windows 10 mobile, while Android works on Android, Windows, OS X, iOS and Chrome OS. Edge has to catch up and do it pretty fast if it has to be a serious competitor again.
Conclusion
For those who want to try the Microsoft Edge, they can rest at peace when it comes to security and malware protection. They will also be able to detect possible attacks on their software when using Microsoft Edge. Also, Edge is more energy efficient because it allows users to save the battery lives of their devices.  On the other hand, between Microsoft Edge vs. Google Chrome,  Chrome is fast and can be used on any platform including Android and iOS. We believe that Microsoft has apparently learned its lesson. Microsoft Edge features a host of modern technologies, which makes it one of the most secure browsers, if not the best in the business. Google Chrome users can consider using Windows Edge.