Remember the movie 'Back to the Future II', we all got excited as well as mesmerised watching the self-lacing shoes worn by the protagonist Marty McFly in the movie. Since the movie released, we all want to have a self-lacing show in our possession, and finally, Nike has been able to turn our imagination into reality. The American shoe manufacturing company announced on Monday that the Nike HyperAdapt 1.0 sneakers, inspired by the infamous 1985 Hollywood classic, will be available at the Nike Soho store and Nike Clubhouse to the Nike+ members from 1st December in the New York City. Although there were plenty of rumours going around on the internet on Nike HyperAdapt 1.0, and some people were predicting the price tag will be well over $1000, notable sneakerhead Jacques Slade confirmed the correct price of $720.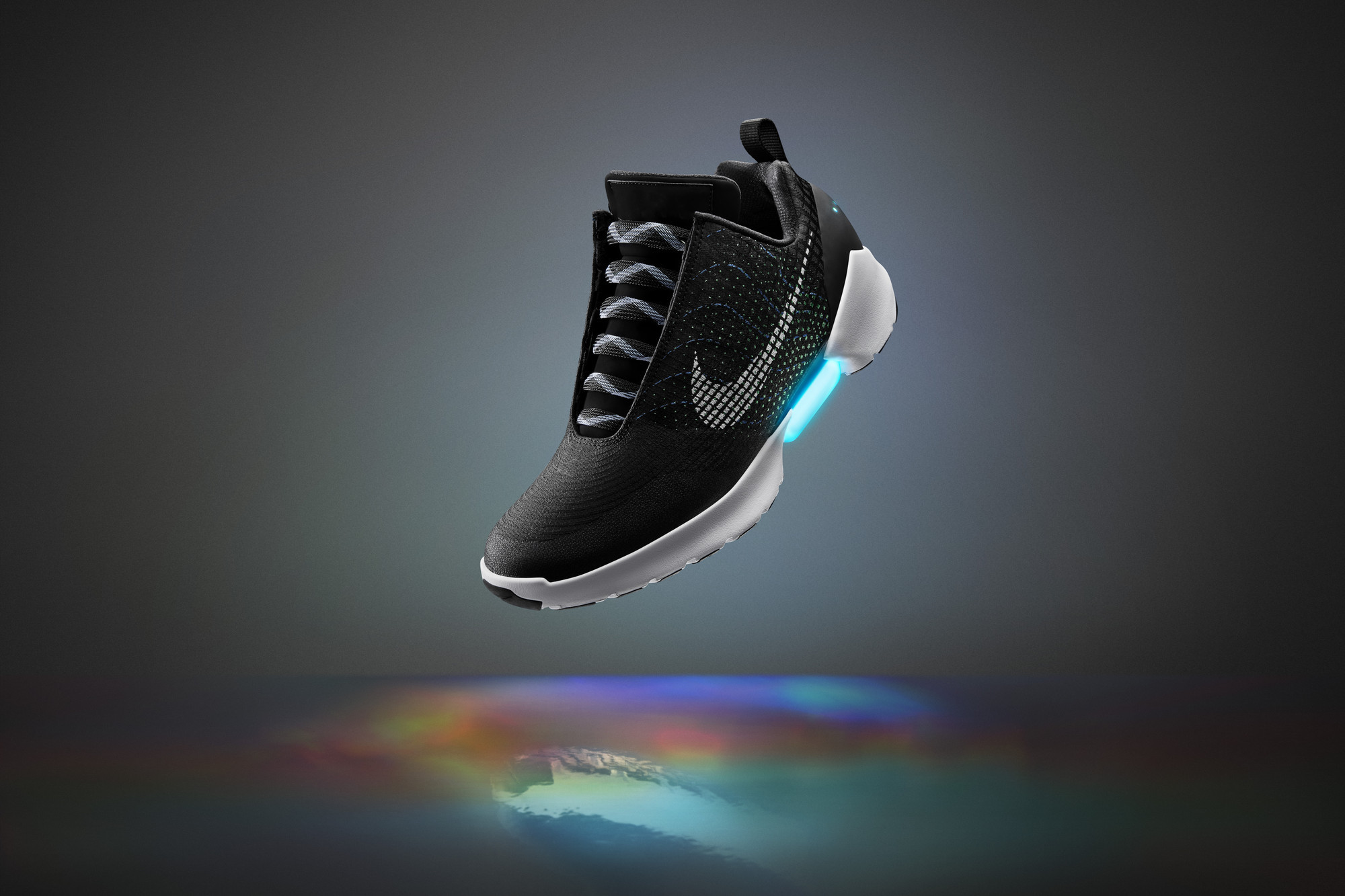 The Nike HyperAdapt 1.0 is going to be the first real Nike sneaker which has perfectly implemented the adaptive lacing technology. So when you put your foot into the sneaker, the shoe will light up as the pressure sensor placed in the shoe sole draws tighter and arranges the fishing line inside, accordingly. Although this adaptive lacing technology isn't fully automatic and it won't just tighten and loosen on the fly. There are two buttons available on the side of the shoe to adjust the fit. The biggest benefit of the power laces is the adaptive lacing technology will provide the users same sort of consistent scrunching and tightening in each step. The shoe laces placed on the front side of the Nike HyperAdapt 1.0 have no usage and have been included in the sneaker just for decoration.
So if you are interested in buying the Nike HyperAdapt 1.0 sneakers, visit the Nike.com or install the Nike+ app on your smartphone. You will get all the details on booking appointments and can make the purchase from the above-mentioned web portals. Moreover, a wee group of Nike+ members will also be permitted a limited early access to the Nike HyperAdapt 1.0 self-lacing shoes on 28th November. Those lucky members will be notified through the Nike+ app's "Reserved for you" system about their opportunity to purchase the stunning Nike HyperAdapt 1.0 self-lacing shoes. The shoe is available in three colour options and they are Deep Black, Crisp White and Smooth Grey. you can also use this as a great hiking shoes.
Check out the Official Nike HyperAdapt 1.0 Self-Lacing Show Trailer Below:
https://youtu.be/z7Cyv3cvIxY