Dutch Fitness watch and tracker maker Tomtom has officially released three new fitness trackers in India namely,  Adventurer, Touch and Spark 3. the Dutch Multinational who is renowned for its advent-grade GPS, Navigation and Mapping tools has strengthened its existing portfolio of wearable by launching this try of new gadgets in the subcontinent hailing it as a potentially strong market for wearable devices and fitness trackers.
"India has the world's third-highest population of obese people. Obesity is considered the core of many diseases. With Body composition analysis right at your wrist, it will be a great indicator of your overall well-being and knowing your body composition changes. Now, with this innovation, we are making technology more accessible to everyone."

-Hitesh Ahuja, country manager, TomTom India
#TomTom Touch : The TomTom Touch fitness is the first fitness tracker in the market that combines body composition analysis (BCA) with steps, sleep and all day heart-rate tracking. According to the company, body composition gives a user an advanced understanding of their fitness level and how it's changing over time. The wearable can also track steps, sleep, all day heart-rate, calories burned and also comes equipped with a sports mode for running, cycling or gym activities. It can also sync with your smartphone to provide notifications.
"With TomTom Touch fitness tracker you could see how your body composition changes over time, to find out what works for you and understand how fit you are."

-Andrew Cooper, senior vice-president, Asia-Pacific, TomTom International BV
TomTom Touch will be exclusively available at Amazon.in at Rs 13,999.
#The TomTom Adventurer: The TomTom Adventurer is a GPS Outdoor Watch built for outdoor sports like hiking, trail running, skiing and snowboarding, is also equipped with a 24×7 activity tracker, multi-sport mode, built-in heart rate monitor, music player, barometer, compass and automatic lift detection for snow sports and is also water resistant.
The TomTom Adventurer is priced at Rs. 25,999 and will be made available in all e-commerce sites from the mid of December this year.
#TomTom Spark 3: TomTom Spark 3 GPS Multisport Fitness watch range comes equipped with Route Exploration that helps the user easily explore new trails and find his way back. The wearable is water resistant unlike the TomTom touch and can be worn while going swimming as well.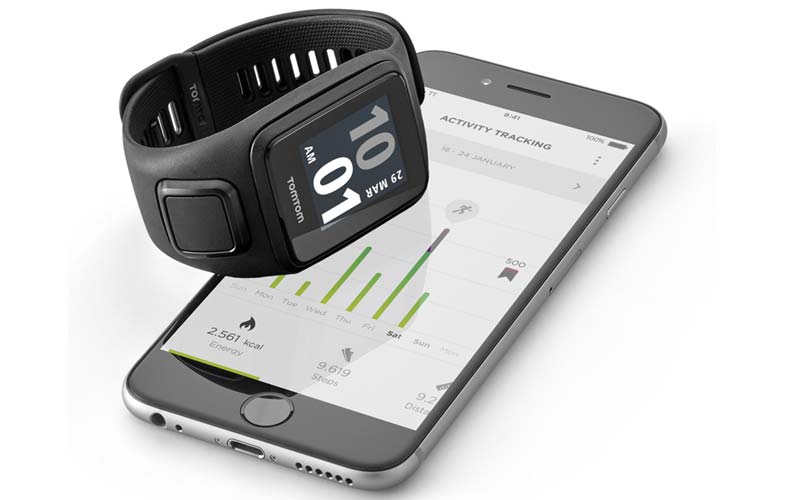 In terms of availability, the TomTom Spark 3 is presented in four variants like Spark 3, Spark 3 Cardio, Spark 3 Music, and Spark 3 Cardio + Music and are priced at Rs. 13,999, Rs. 17,999, Rs. 21,999, and Rs. 21,999 respectively. Unlike the other two wearables, TomTom Spark 3 isn't exclusive to Amazon and is available to e-com websites.
Along with the new fitness tracker wearable line-up, TomTom also inaugurated a new allotment titled as TomTom Sports, for housing all fitness gadgets from the company.