Earlier this year, the Gboard, an app by Google meant to integrate the keyboard's functionalities with its search options, was launched for the iOS. This Gboard application is now available for use on the Android Operating System as well, as the v6.0 update to Google Keyboard. Although Google has not launched an official update yet, users can easily download the APK file from the various websites. Apart from the obvious advantages, the inbuilt search functionalities offer, GIF and emoji search besides other features are also present within the app which does not need to be downloaded separately because of Google's updated native keyboard app.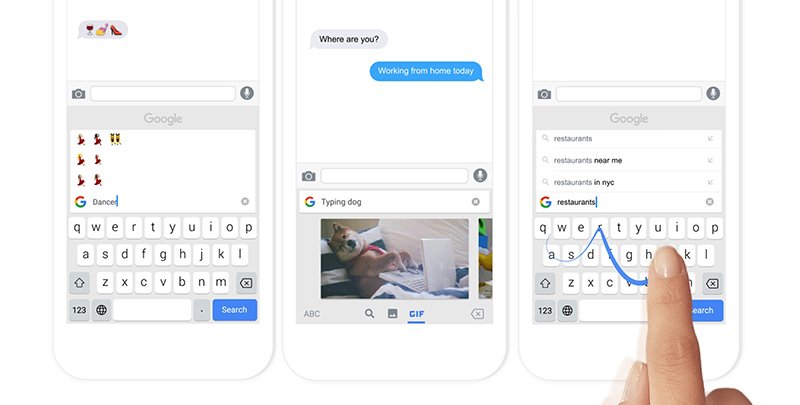 The best part about this app is the integrated  'Google Search' option, obviously. The Search icon is located on the top left of the Gboard app. A tap on this icon will open a new tab in which the user can pose his or her query. BGR reports that the Gboard app has three search suggestions inbuilt:namely, at  "At what time does the sun set?", local weather search and news. Using the search option yields  auto suggestions as well. The Google Search option also includes the GIF option and search for emoji as well. However, the GIF search option will only work if the app on which the Gboard is being used supports the insertion of GIFs. This is not a unique feature,however, as GIF search is already available on the iMessage app for Apple users for some time now.
There are some significant changes to the display and behaviour of the Gboard. Tapping the button 'G', also enabled in settings, offers quick access to search from the keyboard directly. There are now three active languages with the preference for one main language. 'Glide typing' is a remastered and updated version of the old gesture typing.  Users can remove the  Google Search logo on this app. When disabled,  a toolbar with shortcuts to Search, Themes, One-Hand mode and Settings will be displayed. Besides these, the emoji will have a brightened halo setting. The new Gboard app will only work on Android 4.2 and above, it must be noted here. The Gboard will be a competitor to the 'Swiftkey' app. However, users on Reddit have expressed frustration as there is no emoji prediction option.