A new Fallout 4 mod has put the late 90's Warner Bros movie The Iron Giant's titular protagonist in the desolate wasteland of the time post the nuclear apocalypse. The three things which come to mind are robots, destruction and nuclear destruction. All three of these elements are present in the mod and the result is spectacular. The robot with the golden heart is extremely effective at destroying hordes of mutants.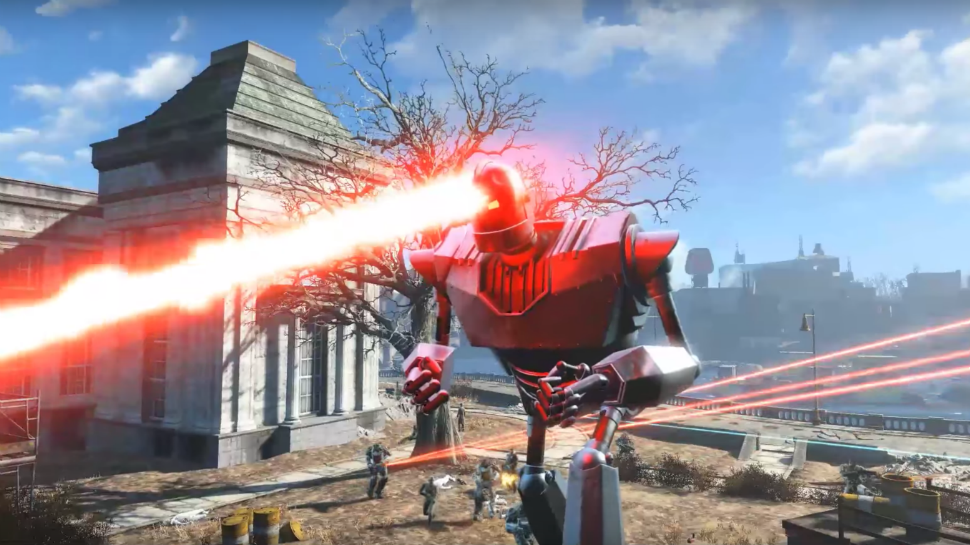 Admittedly, the mod is a bit retro as the robot's features itself suggest science fiction of a simpler time. The robot's features are unchanged. Although it is not smiling, the robot does convey the image of the benevolent monster made of steel.  For those who have watched the movie, The Iron Giant upon its release in 1999 was a film which saw widespread critical acclaim from critics and audiences alike. It was nominated for several awards, winning nine Annie Awards out of a total of fifteen nominations. Naturally, it would seem that this giant could cause no harm.
The developer of this Fallout 4 mod, Matthew Swanton, whose work can be found here, has different ideas entirely. The mod is developed using The Iron Giant's eyes to spew laser beams which seem like waves of continuous fire as well as its sheer brute strength. The mod is significant because it replaces the traditional Brotherhood of Steel's 40-foot-tall and the destructive Liberty Prime robot, on which you can read more at the fan-made page here. The Liberty Prime robot has a more refined structure with sinewy arms and a semi-visible torso. The Iron Giant is made to replace this formidable combat robot that is currently in the possession of the Brotherhood. Its original intent was to liberate the city of Anchorage in Alaska in the Northeast part of the Commonwealth from the Red Chinese during the Sino-American War in the dystopian future of 2072.
It is interesting to note that this Fallout 4 mod is that it is not the ill-conceived fan-made concept that some of the more modern mods are. This mod is not as bloody or destructive as the original Liberty Prime robot. It is disconcerting to see the gentle giant mow over the mutant hordes like a giant killing machine, but if you like it, you can always download the mod at the NexusMods link here. The new Fallout 4 mod works on the XBox One and the humble PC. We do miss the Tesla Cannon on the robot, however.