Two new phones will battle it out when it comes to claiming the 'best mobile DSLR' title. However, we try and take a more holistic view when we pit any device against its competitors. Today we put the upcoming Xiaomi Mi 6 and the Nokia Android device, the Nokia P1. While Nokia will look to recoup some of its failures in the burgeoning smartphone market given its Windows-based failure, the Chinese giant will look forward to launching a grand successor to the Xiaomi Mi 5. Let the battle begin.
Nokia P1 vs Xiaomi Mi 6: Processor and Memory
The Nokia P1 is powered by the Qualcomm Snapdragon 820 with a 2.3Ghz Quadcore CPU. The Xiaomi Mi 6 will be powered by the Qualcomm Snapdragon 835 2.5 GHz Octa-core processor. It is evident that the Xiaomi smartphone will be more powerful with more cores to handle processing and graphics. The Xiaomi Mi 6 has 6 GB of RAM and has an internal memory of 128GB and 256GB in two variants of which the first variant will have an expandable memory option. The phone should run on Android Nougat-based MIUI 9. The Nokia P1 will have 3 GB of RAM with 32 GB of flash memory which is expandable. The phone will run on Android  7.0 Nougat. We have no hesitation in declaring that the Xiaomi Mi 6 wins this round.
Nokia P1 vs Xiaomi Mi 6: Display
The Nokia P1 will feature a 5.4-inch display with 2K resolution and 401 PPI. We expect Corning Gorilla Glass 3 for added protection. On the other hand, the Xiaomi Mi 6 boasts a 5.2-inch screen with a superb 4K display and a resolution of  4096 x 2160 pixels. The Xiaomi Mi 6 is said to have a PPI of 700. While both phones will provide magnificent picture quality, the Xiaomi Mi 6 wins this round with a good margin.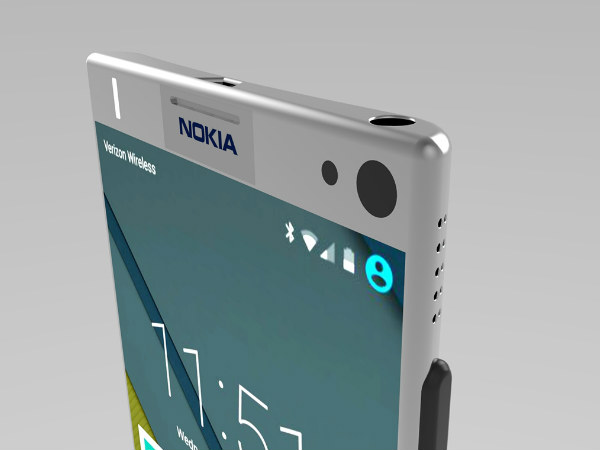 Nokia P1 vs Xiaomi Mi 6: Camera and Lenses
This will possibly be the deciding round. Both models boast of extremely good imaging capabilities on both front and rear cameras. The Nokia N8 lends its imaging expertise to the Nokia P1. Remember that when launched in 2010, the Nokia N8 could capture video in 720p at 30 fps and supported H.264 and MPEG-4 codecs. It also boasted 3x lossless digital zoom and retention of HD quality video while using its full 12 Mpx sensors. Carl Zeiss optics and Xenon flash made the Nokia N8 a delight to use. The Nokia 808 Pureview had an immense 41MP camera. Featured on the Nokia P1 will be a 22MP primary or rear camera with dual LED flash and an extraordinarily agile 8MP front snapper. The Xiaomi Mi 6 has a 23 MP rear and a 7 MP front camera with an 'Optical Image Maintenance Plus' feature to enhance their picture and video recording. We expect Dual Tone LED flash as well. While the fight will be a close one, the Nokia P1 wins this round.
Nokia P1 vs Xiaomi Mi 6: Features
The Nokia P1 has both 4G LTE capability as well as 3G support. Other features include a proximity sensor and a gyroscope, with many features still unknown. The Mi 6 has a 2450 mAh battery with wireless charging capability while the Nokia boasts of a 3000 mAh battery. With a bigger battery, Nokia might well trump the Xiaomi flagship. Judging purely from the user's perspective, the Nokia P1 wins this round.
Also Check : Xiaomi Mi 6 Vs Apple iPhone 8
Nokia P1 vs Xiaomi Mi 6: The Verdict
This is a tricky proposition. While the Xiaomi Mi 6 is acing all tests based on performance and features, the Nokia P1 has wonderful imaging facilities and superior features. We shall call it a truce by saying that the Nokia P1 wins the 'best mobile DSLR' title while the Xiaomi Mi 6 is a better buy for your money. We advise you to choose the Nokia P1 if you want better pictures and videos and if your smartphone usage resembles a photographer using a camera. Otherwise, you might want to stick to the Xiaomi Mi 6. If you think we have missed the mark, do let us know below in the comments.