Bixby has finally arrived and it is very impressive. The Samsung Galaxy S8 and the Galaxy S8+, flagship phones both, were released with much fanfare by Samsung yesterday. While the new phones have been long stirring up the hornet's nest of rumours, it was generally known that Bixby, Samsung's answer to Apple's Siri, would grace the new devices. Now that Bixby is officially here, we got a hands-on look and we must confess that Bixby has enough potential to take over the digital AI assistant market.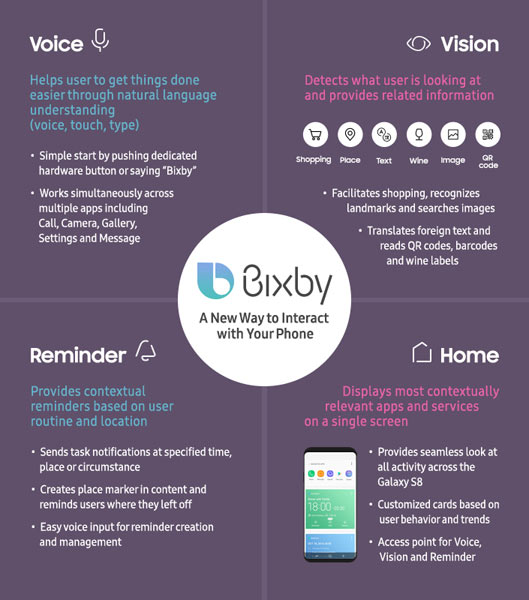 Bixby is essentially a learning machine. With the Korean giant stating in a press release," Bixby is not an ordinary voice assistant, but rather an intuitive and comprehensive interface that leverages contextual awareness to learn users' habits and respond accordingly", we knew that Samsung had a winner on its hands.  Let us take a walk through the myriad features on offer.
Bixby Home
Bixby Home is a single platform where all apps and functions are arranged contextually. It is essentially a single screen window where the user's habits are displayed and further actions are predicted.
Bixby Voice
Bixby Voice can understand what you are saying; it can, therefore, understand natural language. Using voice commands, Bixby can work with a number of Samsung apps like the phone, contacts, SMS, and reminders. It can also provide changes in general settings and camera settings. Like Siri, when Bixby runs short of performing tasks because it cannot understand the user, it will ask the user to provide more data. As of now, Bixby supports languages like US English and Korean. In the near future, Bixby is expected to support Chinese and US Spanish as well.
Bixby Vision
Bixby Vision, as the name suggests, makes use of the augmented reality camera to capture the objects people are looking at and then providing additional details about them. It then provides relevant information to the user and the relevant data can also launch the camera app either independently or via the camera app. Even Bixby Home can do this. Besides, Bixby Vision can also translate text it is pointed at and scan QR codes.
Bixby Reminder
Bixby Reminder is smart enough to provide contextual reminders to the user based on his or her daily routine. You can also create task alerts with detailed specifications and the Bixby Reminder feature will provide you with the features. Bixby Reminder can also keep a tab on what you were last reading or watching. These features are guaranteed to provide the best smart AI assistant-based smartphone experience. In this case, this is the new Samsung Galaxy S8.