Casio is looking to up its game in the burgeoning field of smartwatches. Their new series of smartwatches, rugged and stylish, is the Casio Pro Trek WSD-F20 series, which was unveiled at the recently concluded Consumer Electronics Show in Barcelona. The new watch will run on Android Wear 2.0. A new model has surfaced today, called the Casio Pro Trek WSD-F20S which is designed for harsh outdoor use. The new smartwatch has the coveted MIL-STD-810G rating meaning it has ample scope of withstanding harsh outside conditions. With the Casio Pro Trek series, Casio will look to carving out its own niche in the smartphone market globally.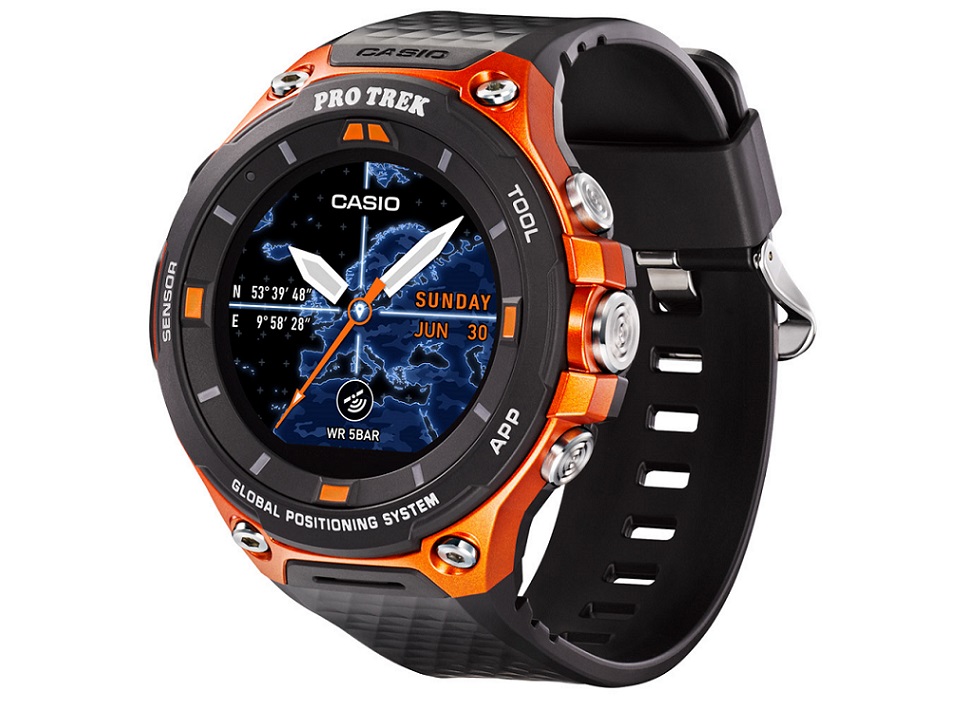 The WSD-F20S Casio smartwatch is a limited-edition model; Casio will build only 500 units. Although the new model is a carry-over of the WSD-F20 series of smartwatches, it has been modified for harsh outside use. The trek in the name itself is indicative if this fact. The black case of the new smartwatch has certain blue elements with a sapphire glass display. This will make the new smartwatch ultra-tough as well as a worthy day-to-day companion
With a semi-glossy appearance, the Casio Pro Trek WSD-F20S also has a matte effect. The display is scratch-resistant. With a 1.32-inch dual-layer screen, armed with colour and monochrome modes, the display is extremely efficient; whenever the battery is running low, the display reverts to monochrome. With a pressure sensor, a compass, and an accelerometer, the water resistant smartwatch can withstand depths of up to 50 metres.
Similar to the original Casio Pro Trek smartwatch family, the new WSD-F20S also has a power-saving GPS mode. With its Android Wear 2.0 base, the smartwatch is compatible with all Android smartphones running Android 4.3 Jelly Bean and higher as well as iPhones running iOS 9 or above. The smartwatch is lightweight at 105 grams. The battery is capable of lasting an entire day as well.
This limited-edition Casio Pro Trek WSD-F20S will start shipping from June. With an expected price of $50o, many tech experts suggest that the new smartwatch is one of the best rugged smartwatches on offer currently. Available in a special case with a triangular lid, the Casio product will be showcased in Basel (Switzerland) later this week.