LilySpeech did the impossible! They brought Google's speech-to-text technology found on Android phones to laptops and desktops for the first time. Now you can use Google's voice-to-text technology on your computer anywhere other than Chrome.
LilySpeech CEO Jonathan Adams told Techvicity that his software enables users to be more productive at work, sending out more emails faster and giving more thoughtful and thorough responses, "It's a very exciting time for voice-to-text software in that it's becoming very accurate," Adams says. "Ten years ago it was just an idea that in reality was just annoying with too many errors…today it's to a point where it works very, very well and is an enormous time-saver."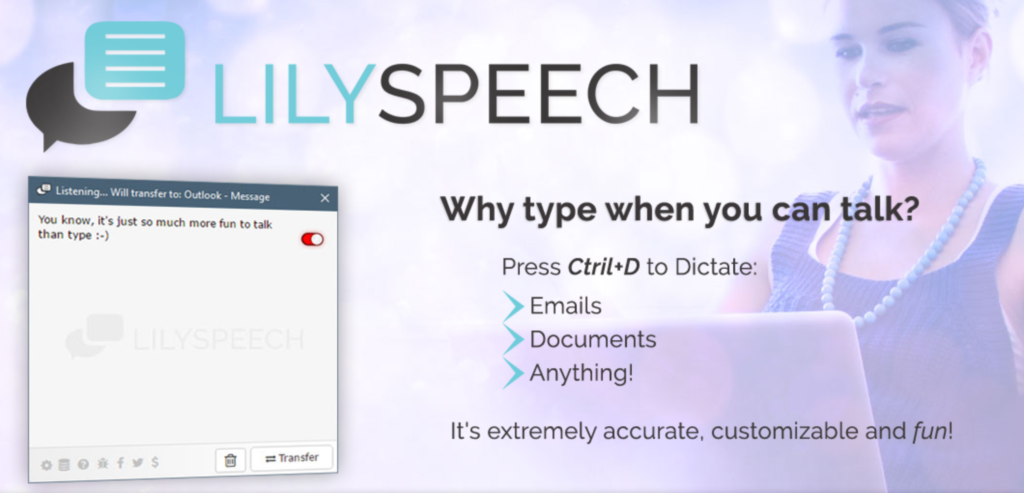 LilySpeech will download and install a copy of Google Chrome on the user's computer. Then, when you have it open, LilySpeech leverages the fact that the Google speech-to-text service is available through Google Chrome, allowing consumers to dictate where they would normally type in Windows. This is not usually possible using Google's Speech to Text somewhere other than in Chrome except LilySpeech figured out how to let you use it in all your Microsoft Window's OS.
Lilyspeech allows you to "type" up to 200 words per minute by voice using a built in laptop mic or desktop headset.  It is incredibly accurate (since this is based off of Google's Android voice-to-text technology) and it works great even in noisy environments on a variety of microphones, since it was originally designed for mobile devices.  It will also uses virtually no computer power by doing all its voice-to-text conversion work in the cloud as opposed to burdening people's local CPU and memory.
LilySpeech is currently priced at $2.49 per month, while its chief competitor, Dragon Dictate, is generally priced around $300, allowing anyone to be a part of this revolutionary shift from typing to speech.
To download a free trial of LilySpeech voice-to-text click here!