The Android Smartphones manufactured by Google were announced on October 4, 2016. Called the Pixel, these turned out to be one of the best Android phones available in the market and got noted for its camera specifications and performance. On the other hand, the Chinese manufacturing tech giant, OnePlus has been developing first-rate Smartphones ever since 2013 and today it has its existence in 43 countries. The first Smartphone manufactured by the company, OnePlus One became the flagship killer phone in 2014 and now the Chinese Smartphone developer is gearing up for the launch of Oneplus 4. And comparing the One Plus 4 and the Google Pixel in terms of their features would be interesting to look at.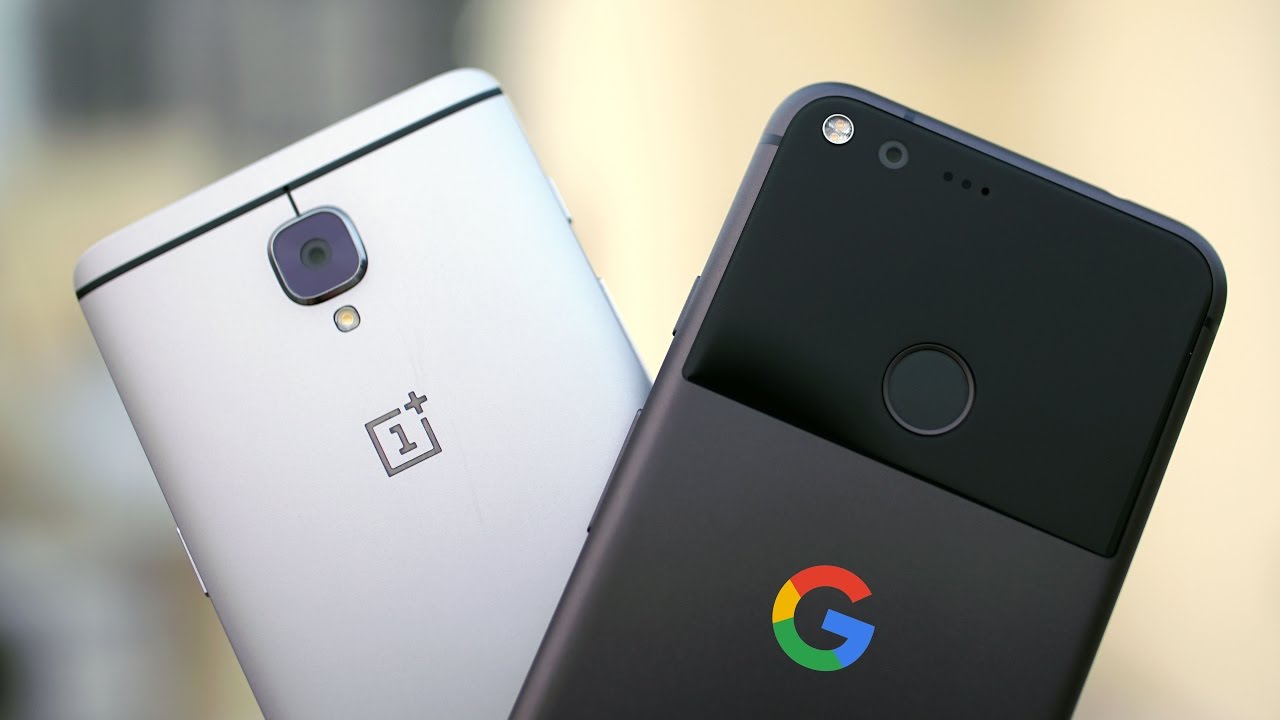 Google Pixel vs OnePlus 4 Memory
The latest Google Pixel came up with two variants one with a 32GB memory space and another with a 128GB internal memory space and both the variants sported a RAM of 4GB. But it seems that the One Plus 4 is expected to be equipped with a bigger storage as speculations suggest that the Smartphone will be featuring a 64GB internal memory space and 8GB RAM.
Google Pixel vs OnePlus 4 Camera
The current Google Pixel smartphone bears a 12MP rear camera and an 8MP secondary camera while the OnePlus 4  is predicted to sport a 16MP rear camera and a front shooter of 8MP. The pixel has the highest rated DxOMark-rated cameras.
Google Pixel vs OnePlus 4 Battery
The OnePlus 4 is expected to feature a massive 4000 mAh battery capacity and the present Google Pixel is equipped with a non-removable battery of 2770 mAh. Therefore, the OnePlus 4 is anticipated to sport an even more powerful battery capacity than the Google Pixel.
Google Pixel vs OnePlus 4 Processor
The processor is the heart of any Smartphone as the performance of the device depends upon it. However, the google Pixel bears a 2×2.15 GHz Quad-core while the upcoming OnePlus 4 is expected to bear 3 GHz Quad Core.
Google Pixel vs OnePlus 4 Display Screen
The outlook of a device generally attract the buyers and it depends on the display of the gadget to some extent. The current Google Pixel sports an AMOLED display of 5.0-inches and if we shift our attention towards the display of the upcoming OnePlus 4, the Smartphone may come up with a 5.5-inches Full HD display.
The current Google Pixel has surely been appreciated by most of its users and even the OnePlus 4 is expected to come up with some premium features.  However, the Smartphone may get launched in June 2017. While the Pixel is a mor3e complete package, the OnePlus 4 score high on its price. The OnePlus 4 may well turn out to be the flagship killer of this year.