Chinese smartphone developers have been on a role for quite a long while now. In fact, over the last few years, a number of new Chinese smartphone developers have managed to grab the headlines of the news from the house of technology. And it seems that it is going to get even bigger for all the brands. In the list of the leading Chinese tech companies, one which leads the pack is Xiaomi. And the latest news which has surfaced has revealed that the Xiaomi Mi Mix 2 is going to be launched very shortly.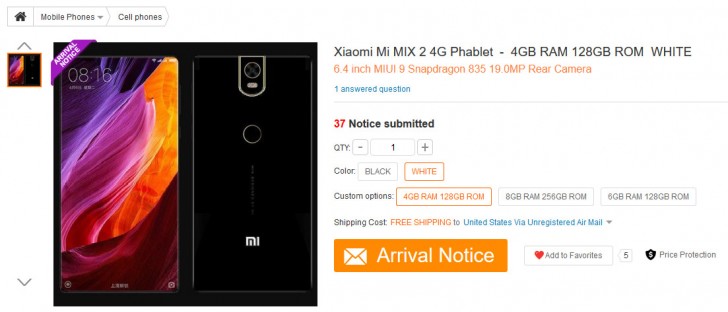 GerBest has been one of the well-known online retail shops where Xiaomi smartphones are put up on sale. Not only smartphones but all other electronic gadgets that Xiaomi launches can be bought from GearBest. And the latest listing of the Xiaomi Mi Mix 2 on the website of GearBest has provided the fans with the idea that the phablet is going to put up on sale very shortly. In fact, the handset has been listed with the option for an "Arrival Notice" which will send the user an e-mail in case he or she has opted for that option.
Other than that, the appearance of the Xiaomi Mi Mix 2 in the list of the online smartphone seller has thrown some clear light on the configurations of the device. The device will come with the Qualcomm Snapdragon 835 processor under the hood, very much like the Xiaomi Mi 6 which was launched yesterday. Three variants of the Mi Mix 2 are expected to come out based on the storage. The basic one comes with a 4 GB RAM & 128 GB internal storage, the second variant with 6 GB RAM & 128 GB internal storage and the one with a huge storage – 8 GB RAM and 256 GB native storage.
It has been also been stated that the phablet will come out on the market with the 19-megapixel rear camera and 13-megapixel front camera which is not found in the render of the device which hit the market a few days back. Along with this, Xiaomi Mi Mix 2 will come with a 6.4-inch AMOLED display which will support a display resolution of 2540 x 1440 pixels. The handset is backed up by a 4,500 mAh battery.
The exact release date of the second generation Xiaomi Mi Mix is not yet mentioned. But the listing has ensured the fact that the smartphone will be available very shortly. For further updates related to the device, don't forget to come back as we promise to bring up all the latest and updated news related to the Xiaomi Mi Mix 2.