Android is the world's most popular smartphone operating system. With great popularity come threats because the OS is also one of the world's most targeted in terms of malware. It isn't just that the bad guys are trying to get to your phone, we're increasingly under surveillance in terms of national governments and even the different websites we visit and apps we use. How can you protect your Android mobile communications? One of the ways is by using VPNs and here are the top VPNs for your Android mobile in 2017.
What is VPN?
First, it's a good idea to remind yourself of what VPN is and how it could potentially make your smartphone experience more secure and fun. VPN stands for virtual private network, and it essentially helps you connect to the Internet much more securely. You are connecting to a VPN server, and all the data is sent through an encrypted tunnel to this server. If someone were to monitor your network connection, all they would see is gibberish due to the encryption.
Why is this important? Because advertisers and spies could read all of your information if you connect to the internet without a VPN. They could potentially see your passwords, your searches and any other information you input online. By using a VPN, you ensure the information cannot be accessed.
VPN also has another, perhaps more entertaining ability. You can use it to appear to be somewhere else. Let's say you live in India and you would really love to watch a new BBC show. But the BBC iPlayer is only available to people living in the UK – or, well, people using a UK network. With a VPN, you can route your connection so that you appear to be in the UK and therefore, you can watch the show safely and securely. So, what are the VPNs worth considering in 2017?
There are plenty of great VPNs out there, but the following are definitely worth giving a try.
ExpressVPN
Express VPN is a popular Android VPN, and it's largely down to the great customer service and easy of use. The VPN is not trying to play with any extra features, but it focuses on providing you with the simple solution to securely accessing the internet. While the app comes with a small monthly fee, you can enjoy a 30-day money back guarantee if you don't think the VPN is the right one for you.
The good news is that ExpressVPN doesn't hold on to any usage logs. On the other hand, it does register and log certain connection data, which you might find uncomfortable.
VyprVPN
If you want a VPN that's fast, then you need to pick VyprVPN. The VPN actually owns and manages its network infrastructure, which gives it a huge speed advantage over some of the other VPNs on the list. You also get to enjoy a free Smart DNS service when you pay for the monthly subscription. VyprVPN also allows you to test the service for free.
The VPN is especially handy for anyone stuck behind the Great Firewall of China. The Chameleon stealth technology is specifically designed to bypass this firewall.
NordVPN
The VPN is very privacy-focused, and its encryption is one of the strongest on the list. NordVPN also has a funky 'double-hop' chaining feature, and you get to use it simultaneously on six different Android devices. The VPN also comes with a money-back guarantee so you could test it for a month and make up your own mind.
Perhaps the biggest issue with the VPN is the speed. The servers are in 46 different countries, but some of them are painfully slow. You definitely want to test different servers to find the speedier ones.
TorGuard VPN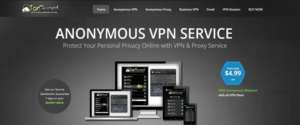 For those that are tech savvy and don't mind learning new tricks, TorGuard VPN is definitely a good pick. The Android VPN provides access to a relatively fast network, and the service is robust. The software is reasonably priced, and it comes with plenty of different server locations, which is useful for spoofing your location.
However, the VPN does not look the most appealing. As mentioned, it can be a difficult one to use if you've not tried VPNs before. But if you know what you are doing, then give it a go.
IP Vanish
You won't have to worry about logs with IP Vanish, although you might not like the fact the VPN is based in the US. The VPN doesn't have quite as good customer service as some of the other VPNs, but it does accept payments in bitcoin, which is rather cool. You can use it with up to five simultaneous connections, and it supports P2P.
A good, reliable VPN doesn't come for free. However, if your privacy is important to you, paying a small monthly or annual fee shouldn't be too big of a deal. Furthermore, you might be able to find software discounts on sites like hotuksavings and cut the cost of your Android devices and software. So, before you sign up with a VPN, make sure to look around for savings.
Now you just need to choose your favorite VPN and start browsing the internet without jeopardizing your information and data.