Just ahead of one of the biggest tech events of the year, the Computex 2017, ARM has unveiled a series of new generation CPUs and GPUs for the modern day smartphones through an unveiling event held in Taipei. The processor making brand has launched the ARM Cortex-A75 chipset engineered for the flagship devices as well as released the ARM Cortex-A55 SoC, which is according to company's claim is the 'most versatile high-efficiency processor' for the mid-range handsets. Apart from that, the British chipset manufacturer has also launched the Mali-G72 GPU, which is 'more efficient' than all the existing GPUs in the market.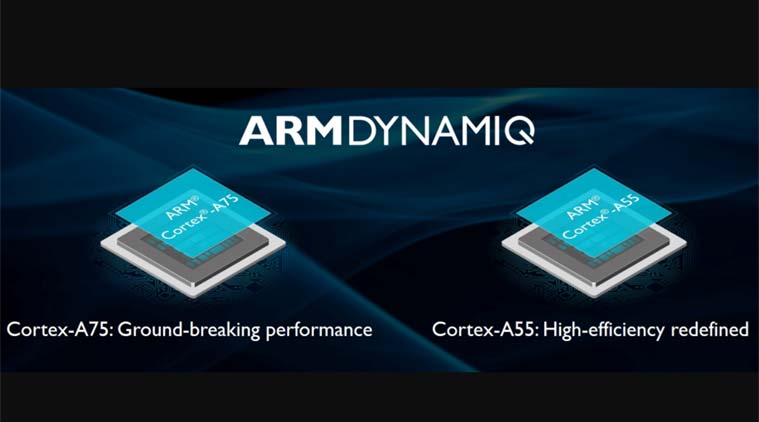 So what is the USP of these newly unveiled CPUs? ARM has embedded the brand new Dynamiq technology in both the CPUs. This latest technology provides the processor making companies like Qualcomm greater flexibility of cores as well as helps to mix and match up to eight cores in a single cluster to enhance the overall performance of the chipset, their energy and design. So with the Dynamiq technology, the developers can now customise a single cluster into pairs of 4 plus 4, 1 plus 7, 2 plus 6, 1 plus 3 and many more variations. For example, the developers can now embed one Cortex-A75 core and seven Cortex-A55 cores in a single cluster to save the cost and most importantly to increase the overall performance of the SoC.
Moreover, ARM has also claimed that the newly launched CPUs, as well as the upcoming ones, will also deliver 50 times better AI performance in the coming 3 to 5 years.Both the ARM Cortex-A75 and the Cortex-A55 are engineered by the latest ARMv8.2-A architecture and the former one is 22 percent more efficient than its predecessor Cortex-A73. Both the CPUs are specifically designed to handle the challenges of the trending artificial language and machine language and boost the AI and ML performance by 10 to 15 times.
Both the recently launched CPUs offer more memory throughput and come with better power consumption than their predecessors as well. The Cortex-A75 is 16 percent more memory efficient and offers up to 30 percent of extra performance on large screen handsets than its predecessors. Whereas, the Cortex-A55 chipset is 15 percent more power efficient and twice more memory efficient than the predecessor Cortex-A53.
If we talk about the Mali-G72 GPU, the graphics processing unit is designed by the all new Bifrost architecture which betters the performance of the handset in a smaller area and low cost. The Mali-G72 GPU is 25 percent more energy efficient, 17 percent more machine language efficient and betters the overall performance by 20 percent. This brand new GPU is tailor-made for the high fidelity mobile gaming and mobile VR. ARM has assured that the new CPUs and the GPUs will be included in the 2018 smartphones.