A leaked image has emerged online that shows that Intel might be setting up to launch a line of processors and there is a certain Core i9 CPU that could be launching soon and will undoubtedly be very expensive. If you look at the leaked image below, its a powerpoint representation in German listing a new Intel processor lineup.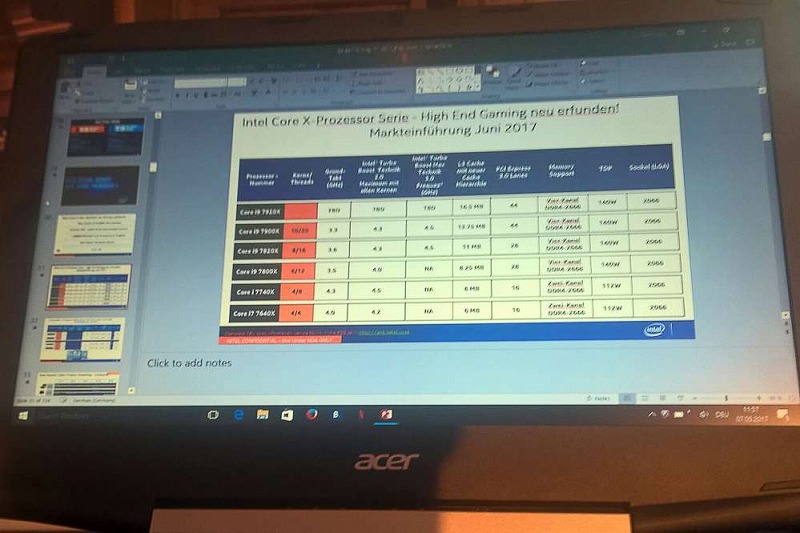 The listing first appeared on AnandTech board, and shows 12 core CPUs that are just about more powerful than anything available today in the market. TechCrunch calls it the Core i9 CPU that the publication claims would run a hole into your pocket when it'll roll out.
As per the publication, the CPUs will cost over $1000 and they'll be shipping in June while the high-end Core i9 will ship in August.
In the listing we can see, two Intel's Kaby Lake-X processors:
Core i7-7740K: 4C/8T, 4.3GHz to 4.5GHz, 16 PCIe lanes, 112W, 8MB cache
Core i7-7640K: 4C/4T, 4GHz to 4.2GHz, 16 PCIe lanes, 112W, 6MB cache
And then there are four Skylake-X chips that will be coming under the new Intel branding of Core i9:
Core i9-7920X: 12C/24T, unknown clocks, 44 PCIe lanes, 140W, 16.5MB cache
Core i9-7900X: 10C/20T, 3.3GHz to 4.3GHz, 44 PCIe lanes, 140W, 13.75MB cache
Core i9-7820X: 8C/16T, 3.6GHz to 4.3GHz, 28 PCIe lanes, 140W, 11MB cache
Core i9-7800X: 6C/12T, 3.5GHz to 4GHz, 28 PCIe lanes, 140W, 8.25MB cache
As you can see, 7900X and the 7920X models sport 44 PCI-e lanes and a TDP of 160 watts. And then there are the 7820X and 7800X models that feature 28 PCI-e lanes and 140-watt TDP. All the Core i9 processors will be based on the Skylake-X architecture that is evolved version of the previous Broadwell-E. And besides these, there is two Core i7 processor that are basically based on the Kaby Lake architecture.
Intel is yet to make any official announcement about the leaks or the Core i9 CPU.