Motorola owned by Lenovo is on a role as a number of new devices have been spotted online over the last few days. The latest one which can be traced online is the Moto Z2 which is touted to be the successor of the Moto Z. In fact, Moto Z2 is supposed to be the next flagship device from the Motorola brand of Lenovo.
Now there have been quite a lot of discussions going on around in the market regarding this new device from Motorola. Previously Moto Z2 has been spotted on AnTuTu as well which has provided the clue that the smartphone will soon be launched. And the latest GFXBench listing of the handset has assured the tech enthusiasts that it is not going to be too long before we can come across the first look of the Moto Z2.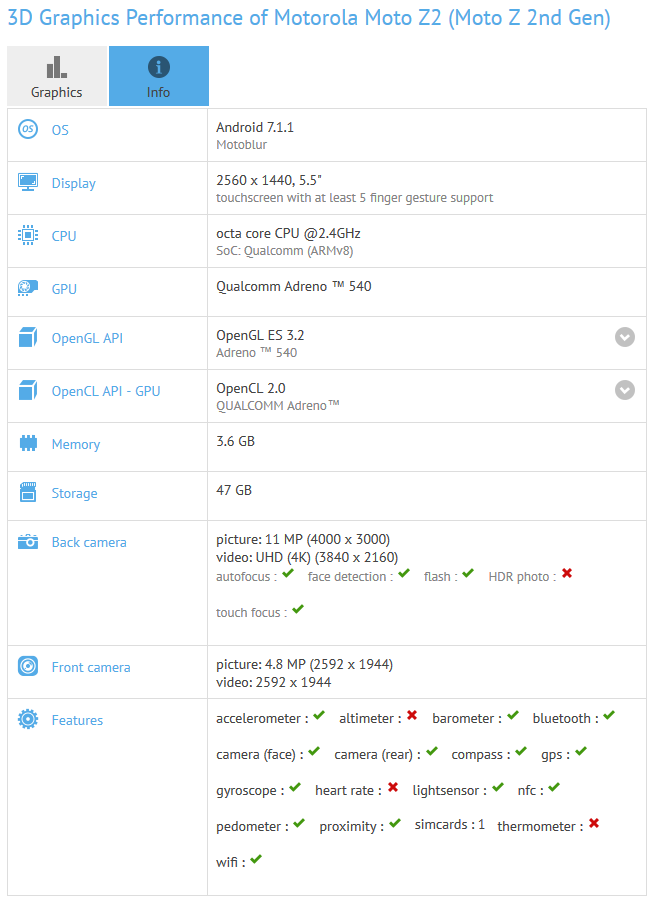 The GFXBench listing of a smartphone always comes up with some concrete information regarding the features of the smartphone. And there is no exception this around as well. The GFXBench listing has revealed that the smartphone is going to be powered by the octa-core Qualcomm Snapdragon 835 chipset clocked at 2.45 GHz which will be coupled with 4 GB RAM and 64 GB internal storage. It will also be equipped with the Adreno 540 GPU under the hood which will certainly enhance the overall performance of the smartphone. Moto Z2 will run on an Android 7.1.1 Nougat operating system right out of the box.
The other aspects of the smartphone are pretty impressive as well. The 5.5-inch screen will be supportive of a 2560 x 1440 pixels resolution. The rear camera will sport a 12-megapixel lens which will be capable of shooting 4K videos as well. The selfie camera will have a 5-megapixel lens. There will be the 3.5 mm headphone jack as well alongside the various sensors.
Regarding the release date of the Moto Z2 it can be stated that it is very likely that it will be launched on June 30. Formerly it was expected that it will be launched on June 27 but that turned out to be a fake update. However, this time it might eventually hit the market since Motorola, rather Lenovo has an event scheduled on that day. So keep your eyes on this thread as further news related to the new smartphones from Motorola is on your way. You really can't afford to miss that.