Qualcomm rolled out the new Quick Charge for its chipsets just a few months ago. That was the Quick Charge 3.0, and we already know that Quick Charge 4.0 was on the cards with an expected release date of mid-2017. Now, it seems, Qualcomm is already looking over the horizon as far as the technological advancements are concerned. For, it has emerged that Qualcomm is already testing the Quick Charge 4+, which may be a working title.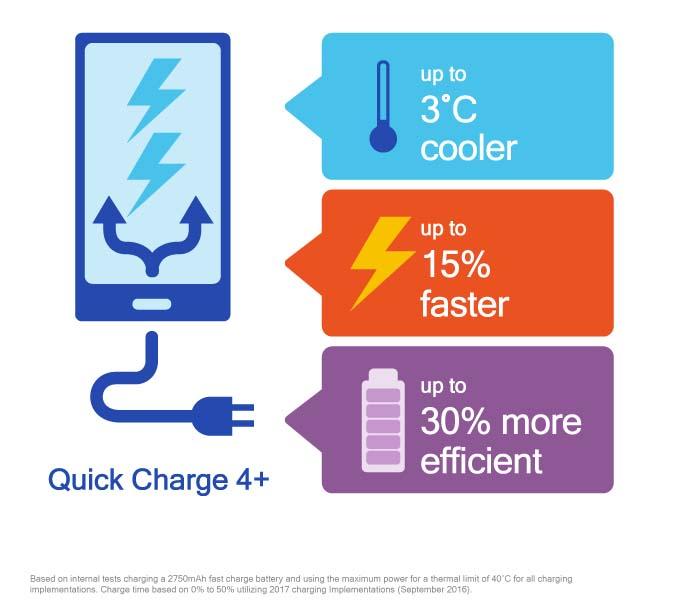 Qualcomm's Quick Charge 4+ is up to 15 percent faster than its nearest sibling, the Quick Charge 4, thus making it speediest charging standard yet. Qualcomm has stressed that the Quick Charge 4+ is meant for device and accessory OEMs only with some key features improved even more than before. According to Qualcomm, the three primary benefits of the new Quick Charge 4+ are a faster charging protocol, better efficiency, and charging without raising the surface temperature of the device. The figures are also impressive- a standard 15 percent faster charging, as well as nearly 30 percent more efficiency, while charging with a controlled temperature which is up to 3 degrees Celsius cooler than was the Quick Charge 4.
These enhancements are most visible on mobile devices, although Qualcomm has mentioned that accessories too will be able to support this new technology. One of the most interesting of these enhancements is Dual Charge which essentially means that you can now charge your devices faster with a lower surface temperature. It will do this by lowering the amount of thermal dissipation by dividing up the charge current. Qualcomm has allegedly made this possible by integrating a second power management IC resting within the device that is being charged.
A new technology for Dual Charge which is called Intelligent Thermal Balancing is also here, a rather smart technological achievement. It allows the charge current to search for the path with the lowest temperature in a manner which will ensure nominal power delivery to the device which, in turn, will stay cooler and won't affect performance of the charge delivered as well.
In this manner, the charge will be delivered faster while the temperature will also not rise. The prime focus of the new Quick Charge 4+ seems to be focused on preventing short-circuiting and overheating. It also stands to reason that the new Quick Charge 4+ will also help in preventing damage to USB Type-C connectors.