Google is now unveiling a unique and seamless method for performing two-step verification. Dubbed as Google Prompt, Android and iOS devices can get this two-step method. Initially, the tech giant started offering relevant information such as device name, IP address, time and location to sign in along with a prompt request in order to confirm the verification. Now the internet giant will use an updated method, precisely the account authentication.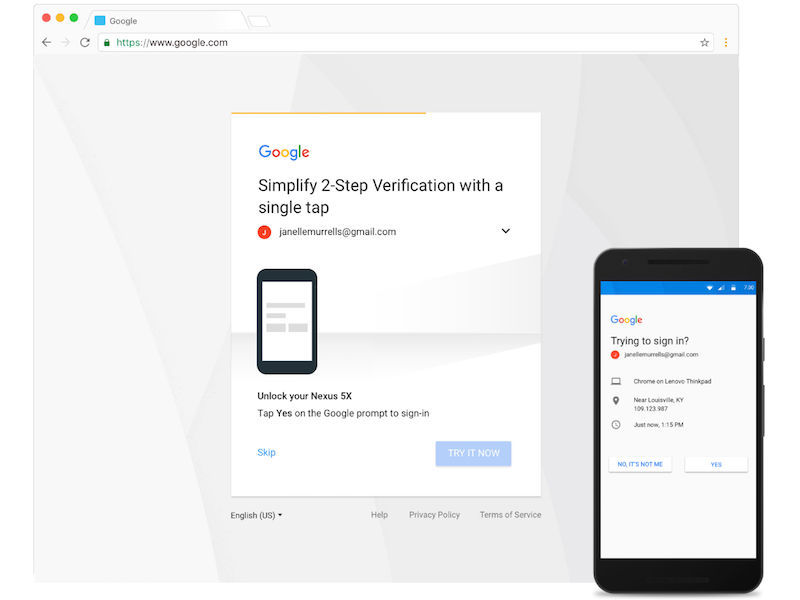 With the introduction of the account authentication method, verifications will be accomplished whenever an account is logged into another device just by tapping "Yes" through the option available on the smartphone. According to the search giant, this faster verification method will be convenient to users in dedicating more secure accounts in future. Google says, "By relying on account authentication instead of SMS, administrators can be sure that their mobile policies will be enforced on the device and authentication is happening through an encrypted connection."
The new Two-Step Verification is rolling out initially by offering a preview on how the process of verification will work. Following this, there's the screen requesting either of the two; whether to keep the Google prompt enabled, or reject this system. Interested users can visit the option of two-step verification in Google account settings. Besides enrolling in the two-step service, Google Prompt also offers the addition of more handsets in the queue of devices which will receive verification prompts.
February was the time when the company updated the Google prompt in order to introduce pieces of information like location and the names of devices signing into the account. Serious fans using the SMS codes are looking forward to witnessing the prompt previews expected to start next week. For both Android as well as iOS users, prompt features are available (although iOS users will need Google search app installed in order to use prompts).