South-Korean tech conglomerate Samsung is developing an improved version for the Gear Fit 2 fitness tracker. The rumor mill has been abundantly indicating that the improved edition may get unveiled as  Samsung Gear Fit 2 Pro. Now, a device carrying the model number SM-R365 has been certified by FCC, the US regulatory authority for communications equipment.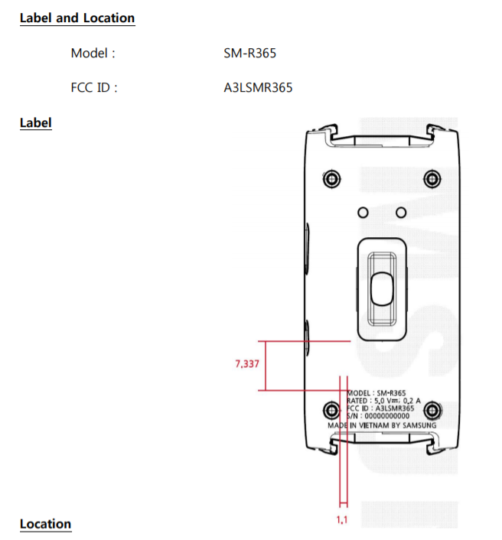 It was not long ago that the company gave an updated software to the Gear Fit 2 for enhanced performance. But now that a whole year has passed since Samsung introduced the follow up to the original Gear Fit, many are expecting to hear about a new addition to the lineup. Back in May, the Gear Fit 2 Pro was speculated to get launched at the Tizen Developer Conference in San Francisco. But the rumors were not confirmed to be real.
However, fans can now expect Gear Fit 2's arrival shortly, as the device has finally received the Federal Communications Commission certificate in the US. According to reports, Samsung's device with the model number SM-R365 finally received the approval from the FCC with an ID- A3lSMR365. And as the speculations go, Gear Fit 2 Pro could very well be the Samsung device bearing the model number SM-R365. Reportedly, Gear Fit 2 Pro schematics have been revealed by FCC listing.
As per FCC listing, SM-R365 is envisioned to be equipped with v4.2 LE Bluetooth alongside a single band Wi-Fi b/g/n. Also note, the device is speculated to be integrated with an optical heart rate tracker. Being a successor model of Samsung Gear Fit 2, fans definitely look forward to witnessing an upgraded edition with delightful features. Unfortunately, for the time being, no other feature has been made public. Speculations also suggest that the tech giant is also developing another device called Gear POP which may debut with the model number of SM-R600.
Besides, Samsung's Gear S3 edition rolled out in two variants– Gear S3 Frontier and Gear S3 Classic. While both had rounded design, the latter one was a definite edition for the corporate world. Gear Fit 2, the predecessor of much-anticipated Gear Fit 2 Pro was launched last year in June. With so many reports doing the rounds, we expect the Gear Fit 2 Pro to get unveiled shortly.