Samsung is currently busy with the launch of the flagship phablet Note 8, which is approaching fast. In the meanwhile, it seems that the South Korean brand is looking forward to the beginning of the development of the new smartphone in the Galaxy S series. A new smartphone from Samsung with the model number SM-G9650 gets spotted on Geekbench which the experts believe to be the Samsung Galaxy S9.
The particular device has performed decently enough. The score is pretty close to what Samsung would like to see. The render script score of the smartphone has revealed that it has got 7371 points, which is quite high. Considering the fact that there is a long time to go before the launch of the next flagship device, we can expect that in the coming days we will come across the scores of the device in the single-core and multi-core tests too.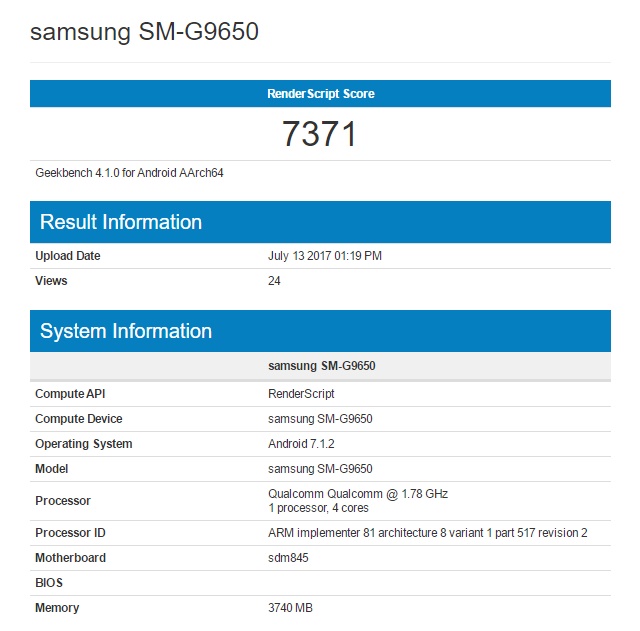 Now there is every reason why we predict that this could be the Samsung Galaxy S9 despite the fact that there is no mention that it is going to the next flagship device. If we look at the trend, we can find out that the model numbers of the flagship handsets in the Galaxy S series have this kind of a numbering. Samsung Galaxy S6 and S6 Edge came out with the model numbers SM-G920 and SM-G925. S7 and S7 Edge followed it up with SM-G930 and SM-G935 model numbers respectively.
However, Samsung Galaxy S8 and S8+ did not follow the trend and came out with model numbers Sm-G950 and 955 respectively. This is perhaps because '4' is regarded as an unlucky number in the China and other Eastern Asian countries that Samsung has given the number SM-940 a miss. Hence this new smartphone with model number SM-9650 could well be the Samsung Galaxy S9.
The Geekbench listing of the smartphone has revealed that it is going to come out with a quad-core Qualcomm Snapdragon 845 processor under the hood coupled with 4 GB RAM. The processor will be clocked at 1.78 GHz and the device will run an Android 7.1.2 Nougat OS.
Very recently we came across yet another smartphone with model number Samsung SM-G9600 and it is believed that it is the Samsung Galaxy S8 Mini. So there are lots of things which need to be revealed in the coming days regarding both the S8 Mini and the Samsung Galaxy S9. So we need to wait for some official statement. And for that, you should keep coming back to this thread regularly as we keep updating you with the latest news and updates from the field of technology.