Chinese electronics company, Xiaomi will unveil its new edition of the Mi 6 tomorrow. From what we have been gathered with earlier reports, the Chinese tech company is going to manufacture 100 units of Xiaomi Mi 6 Mercury Silver edition. Apparently, the new silver variant, the Mi 6 Mercury Silver variant will come up with a new surprise. It has been disclosed that Mi 6 Mercury Silver variant will roll out as a form of memorabilia.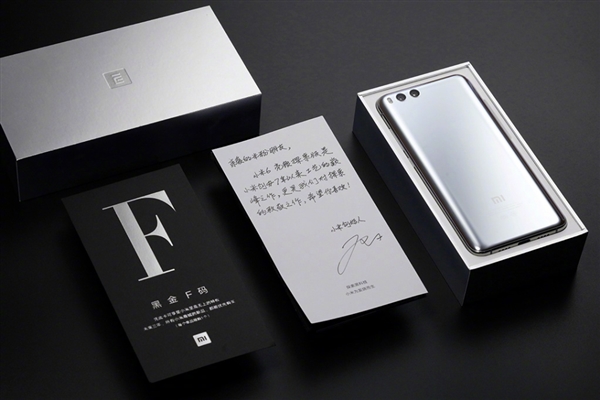 With plausible reports, it has been revealed that the new Silver color variant of MI 6 is going to come with some perks. And one of the perks is, a signed letter offered by seven co-founders of Xiaomi. Each of the 100 units will get unveiled with a letter randomly signed by one of the seven founders including the CEO Lei Jun. Other developers include Zhou Guangping, Lin Bin, Li Wanqiang, Liu De, Hong Feng and Huang Jiangji.
Not only a signed letter, the lucky hundred fans who purchase the device will be eligible for getting an F-code inside each of their copy. For Xiaomi, the F-code stands for Friends code that aims to prioritize those important users, who contributed the tech company. F-codes owners are eligible to purchase Xiaomi handsets from the official page of MI without even opting for advance ordering. The validity of F-codes lasts up to three years as the company cannot ship directly out of China.
Similar to that of Xiaomi Mi 6, Mi 6 comes with delightful features. The smartphone is powered by Qualcomm Snapdragon 835 clocked at a lightning fast 2.45 GHz. In terms of battery, the handset is powered by 3350mAh battery designed for the MIUI 8. Under the hood, there's a RAM of 6 GB alongside a native storage of 128 GB. It'll run the latest Android 7.1.1 Nougat operating system. After the discussion of Xiaomi Mi 6 Mercury Silver variant's key specs, one cannot wait too long to get their hands on the device that's releasing on August 3 (tomorrow).