With evident reports, we had informed you earlier that the search engine giant is planning to bring Google Pixel 2 and the Pixel 2 XL in two variants. Now a billboard has appeared in Boston which hints not only at an imminent launch date of 2 Pixel duo but also highlights the October 4 date. Now, what are we to think about this news? If the recent report is to be taken into consideration then the report leaked by Evan Blass would be dragged as false which states Google Pixel 2 and the Pixel 2 XL to unveil on October 5. In case, one can check the report right here.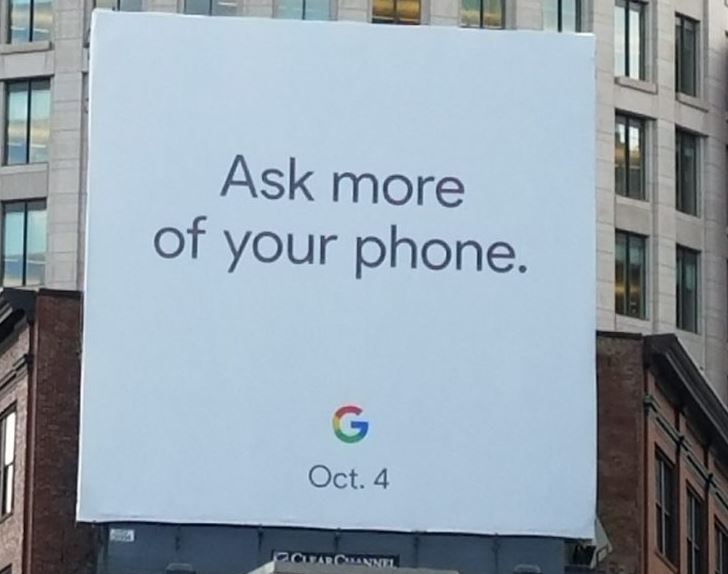 As per the latest report, Google Pixel 2 XL has received the FCC (Federal Communications Commission) certification in the US, hinting at some delightful key specs. According to the FCC listing, Google Pixel 2 XL comes with an FCC ID- ZNFG011C. While we already know that Google Pixel 2 is built by HTC and the Pixel 2 XL is manufactured by LG, the same thing can be taken into consideration with the FCC listing. One can closely check the "ZNF" which is the FCC guarantee code of LG, whereas the model number "G011C" is more or less similar to Google Pixel 2 (G011A).
Previously, both Google Pixel 2 and Pixel 2 XL were tipped to get manufactured by HTC but in the end, LG took off the Pixel 2 XL, which is the result of eliminating the model number "G011B" (that got canceled), reports Gizmochina. Through the FCC listing, one can expect Pixel 2 XL by LG to support the LTE brands such as AT&T, T-Mobile, Verizon and Sprint and so on excluding T-Mobile. Codenamed as Taimen, the Google Pixel 2 XL is likely to house the powerful Snapdragon 835 chipset.
According to other rumors, the smartphone is tipped to flaunt a 5.99-inch display alongside 1,440 pixels resolution. Other features also include a 3.5mm audio jack, Always-On Display, dual front facing speakers and more. Both Google Pixel 2 and Pixel 2 XL will get unveiled on October 4 and eventually launch on the 20th of the month. Further updates await in the near future, hence stay glued.