According to the latest reports, the Xiaomi MIUI 9.0.2.0 is coming soon. This new update will be made available for a selected few devices and will be available soon. One of the first devices which came with the MIUI 9 update was the Xiaomi Mi 5X, which we had covered here. Incidentally, the MIUI 9 had been updated in July of this year. With the new MIUI 9.0.2.0 on the way, users will have better usability and greater control over their devices.
So far, several Developer Preview versions of this Xiaomi proprietary custom ROMs have been introduced.
It now seems that the stable version of the MIUI 9 will not take too long to launch. Huang Longzhon, who is the MIUI Marketing Deputy Director, recently took to Weibo and confirmed officially that the stable MIUI 9 would soon be released. The version number would be 9.0.2.0. Besides this information, Longzhon also posted a purported screenshot of the Xiaomi Mi 6 seen running on the MIUI 9.0.2.0; this makes it very evident that this much-anticipated stable build is seemingly ready for the rollout.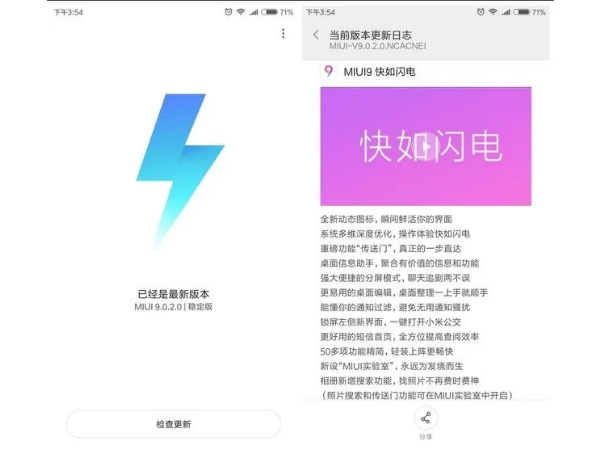 Longzhon admitted that a stable version of the OS would normally be issued after 2 months of the release of the developer preview. However, the MIUI 9 was a new system and it had taken a lot of time. When the MIUI 9 was announced, Xiaomi had announced that certain smartphones would receive this update. However, not all of those smartphones will receive the new EMUI 9.0.2.0 update.
Even fewer phones will receive some of the more premium features of the new upgrade. This is because some technical issues have persisted. The split-screen multitasking feature, for example, will not make it to many of the existing devices. One great feature of the new OS will be the software-drive facial scanning ability which will make it to most devices, irrespective of the hardware inside. We expect that this stable MIUI 9 update will be rolled out to most phones either by early November or even by late October.