If the latest leaks prove to be correct, the new and upcoming Oppo F5 may have as many as three variants, which will lead yo many people being satisfied as they will have one for each mood. The brand normally prided itself as a 'Selfie Expert' and these three phones may prove to be ample testimony to that fact. We have previously covered the Oppo F5 and we had reported that the new devices could be coming on October 26.
Oppo has not generally been renowned for keeping secrets but in today's tech industry, there are very few brands which can effectively keep a secret.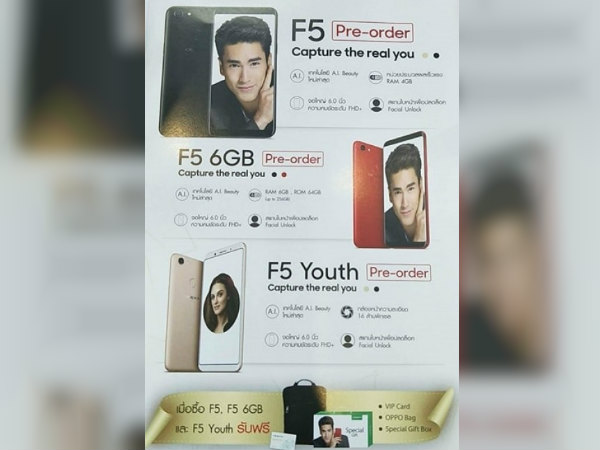 A new marketing photo of the Oppo device has been released in Thailand. This shows that the device will have 3 variants.  The most standard or basic device will be called Oppo F5, while a more powerful Oppo F5 will have 6GB RAM. An affordable variant which has been dubbed the Oppo F5 Youth is also on the menu.
As far as the image is concerned, the standard Oppo F5 may arrive with 4GB RAM, an "AI Beauty" feature, a very neat 18:9 FullView FHD display which will have a 2160 x 1080 resolution as well as face recognition technology. The new Oppo F5 6GB, as is obvious, may come with 6GB of RAM as well as 64GB of internal or native storage. Also on board is an FHD display as well as a facial recognition feature. Finally, the Oppo F5 Youth is apparently a watered down version of the basic Oppo F5. The handset may arrive with a 16 MP camera. It will also retain the Facial Unlock feature as well as the AI Beauty feature.
Some other features which all of the Oppo F5 series may carry are the octa-core Qualcomm Snapdragon 660 SoC, besides a handy 4000mAh battery, the much-derided 3.5mm audio jack, a micro USB port, and Bluetooth 4.2.