Subjected to several leaks and rumors, the upcoming OPPO F5 is playing it part wonderfully in the tech industry. What we have earlier reported on the leaked poster of the smartphone, seems to come true with the new leak that we are aiming to talk of. The new leak that surfaced on the internet indicates the device to come in three variants.
Oppo Malaysia, on Instagram, has recently leaked a video indicating the smartphone to feature the facial unlock technology. According to the post via Instagram, Oppo Malaysia stated, "Unlock your phone easily, with the OPPO F5 facial unlock technology. It's faster and secure than before. #OPPOF5 #capturetherealyou." OPPO is reported to come in three variants- Oppo F5, Oppo F5 6GB, and Oppo F5 Youth.
https://www.instagram.com/p/BangWg6HW76/
According to what we have received via the post, OPPO F5 is likely to feature the facial unlock technology. Besides that, the smartphone will have the capability to get unlocked with wet hands as well as with gloves, as it reads 'unlock with wet hands' and 'unlock with gloves'. In addition, the brand which claims to 'capture the real you' have presented the video in three color variants of the device- Black or Gray, Red, and White.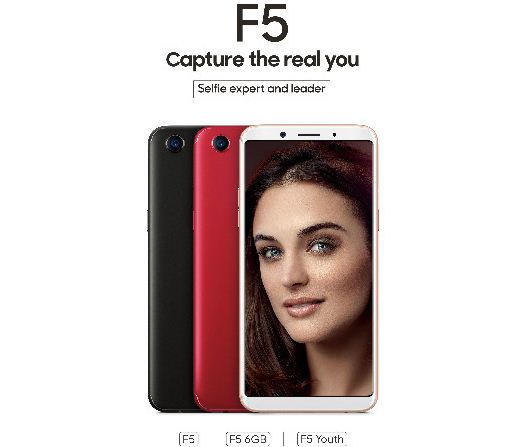 To recall the past reports, OPPO is set to bring its F5 device with the inclusion of AI-backed selfie cam. This blessing in disguise feature will deliver improved selfie shots by utilizing complex AI algorithms. As per other specs, the device is also expected to debut with minuscule bezels. While the unveiling of OPPO F5 is set for November 2, other reports on the contrary, indicate October 26 to be F5's launch date.
As of now, this is not the ultimate to get from the rumor mill. More news awaits, for that stay glued to us.