Razer is likely to launch its first gaming-specific smartphone on the 1 of November. For the record, Razer Inc. is one of the world's best-known gaming brands and have a lot of fand over the world. That it would come up with a smartphone was only a matter of time. Razer's first series of gaming mobile devices have 8GB of RAM and will likely be powered by a Qualcomm Snapdragon 835 SoC. The new device is tentatively called the Razer Phone.
As per the GFXBench listing, the new Razer Phone has an excellent 5.7-inch display. However, unlike the other competitors like the Samsung Galaxy Note 8 and the LG V30, this new device will not support the 18:9 aspect ratio. How do we know this? Well, because the Razer Phone offers a display resolution of 2,560 x 1,440 pixels, this means that the screen aspect ratio will be the usual 16:9 aspect ratio. This does not mean that it will not be ideal for watching wide-screen movies and other content.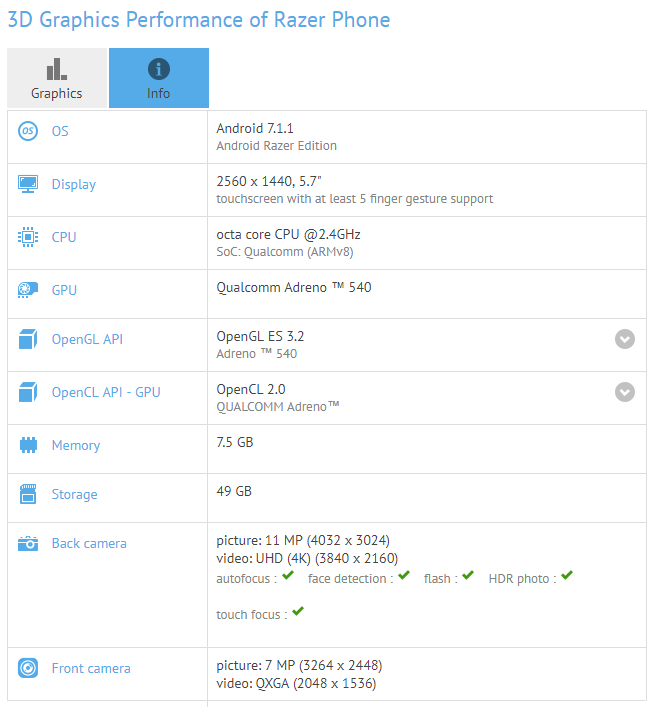 Underneath the hood of the Razer Phone is the Qualcomm Snapdragon 835 chipset which will work in tandem with 8 GB of RAM. Not too many 8GB RAM phones are present in the market currently. The ASUS ZenFone AR, reports state, is the first 8 GB RAM smartphone but it had a Qualcomm Snapdragon 821 SoC, which is slightly dated. The ZTE Nubia Z17, which released earlier this year, came with a Qualcomm Snapdragon 835 processor and 8 GB of RAM. The Nubia Z17 is not available outside of China. Incidentally, the OnePlus 5 too features the Qualcomm Snapdragon 835 paired with 8 GB of RAM.
The Razer Phone will run on the Android 7.1.1 Nougat. Having said that, it is unlikely to have a stock version of Android OS. A new skin will likely be applied to the Android OS. The inbuilt storage of 64 GB is also well-received. On the rear of the new smartphone is a 12-megapixel camera which has 4K video shooting support. It will also have an 8-megapixel selfie snapper on the front.